Attendees pose for a photo at the project launch ceremony. [Fan Wenjun/women of China]
The Samsung STEM Girls, a program initiated by the China Women's Development Foundation and Samsung China, was officially launched on March 26, in Beijing.
Chen Zhili, Vice-Chairperson of the Standing Committee of the 11th National People's Congress and former President of the All-China Women's Federation, Meng Xiaosi, President of China Women's Development Foundation (CWDF), Member of the 12th CPPCC Standing Committee and former Vice-President of the All-China Women's Federation, Huang Degui, President of Samsung Greater China Region, Zhang Jianmin, Deputy Secretary-General of CWDF, and Yang Xiaoyu, Deputy Secretary-General of China Youth Development Foundation, attended the launch ceremony.
Chen Zhili awarded certificates of honor to Samsung China and two young female scientists, Zhang Yan and Xu Ying, at the ceremony.
At the ceremony, Meng Xiaosi pointed out that gender equality is an important part of the UN's sustainable development goals. Women, who make up half of the population, are both builders and creators of the new era and valuable resources for the campaign of rejuvenating the nation through science and education, and human resource development, as well as for promoting innovation-driven development.
Meanwhile, women have special contributions and influences on the future development of families and nations. We must start with girls and integrate gender awareness into basic education and science education so that girls can enjoy equal access to new science and technology education, foster an interest in information, practicing and innovation. It's important to cultivate the ability to innovate in technological literacy.
Meng said that Samsung's Future Women Training Program is a project focused on the demand for talent cultivation in society. The internationally advanced STEM education concept focuses on sustainable development and emphasizes "soft skills" such as leadership and innovation. The courses and activities are aimed at cultivating women who can lead the future with self-confidence, courage and creative minds in science and technology field.
Huang Degui expressed Samsung's vision for the project at the launch ceremony. "Females are as excellent as their male peers. We hope that more women pay attention to science and technology in this new era, possess international vision, leadership, innovation and social responsibility, and realize that they occupy an important position in society with equal rights and opportunities.They are responsible for changing society with enthusiasm and ability to create and realize a better future."
This project will accept students' application through the recruitment of key schools and online open recruitment. Through the material review and interview (face-to-face and remote) process, 1,000 female students who meet the recruitment criteria will enter the project.
Through the remote tutoring of professional tutors, the participants will receive a comprehensive assessment after completion of the coursework. Qualified individuals will receive certificates. There are also innovation workshops, advanced training camps, innovative leadership exchanges and design on the theme of sustainable development, visits to high-tech companies and exchange activities.
The project will ultimately select twelve leaders through comprehensive selection, provide them with innovative practical activities for public welfare projects and opportunities to participate in international summits or forums to communicate with scientific and technological giants such as Nobel Prize winners and innovation pioneers.
After the recruitment is completed in May, training and related activities will be carried out and will continue until December 2018.
Background
STEM is the acronym for Science, Technology, Engineering, Mathematics. STEM education integrates the four decentralized discipline and transforms piecemeal knowledge into a unified, integrated whole, to promote students' comprehensive literacy in science, technology, engineering and mathematics and improve students' ability to actively discover and solve problems.
In the high-level scientific research field, the number of female scientists often indicates the "5 percent" phenomenon. Among the academicians of the Chinese Academy of Sciences and Chinese Academy of Engineering, the proportion of women is only five percent. In the "Thousand Talents Project" that has been implemented since 2008, females are rare; the "Changjiang Scholar Award Scheme" has attracted 1,152 talents at home and abroad for 10 years, of which only 75 are women, just 5 percent of the total. Among the chief scientists selected for the "973" plan, women accounted for 4.6 percent; among the "100 plan" candidates selected by the Chinese Academy of Sciences, only 5 percent are women.
A growing body of evidence reveals that gender bias affects research results and more women should be involved in scientific research. However, many female students did not receive positive encouragement or correct methods of study during the learning process, thus giving up the path to scientific research.
Based on this consideration, Samsung and the China Women's Development Foundation launched the STEM GIRLS project to cultivate girls' interest in science, technology, engineering and mathematics, enhance their scientific literacy and exert leadership and creativity in the world arena.
Recruitment link: http://www.fancyacademy.com/samsungstemgirls
Chen Zhili(C) awards certificates of honor to young female scientists Zhang Yan and Xu Ying at the ceremony. [Fan Wenjun/women of China]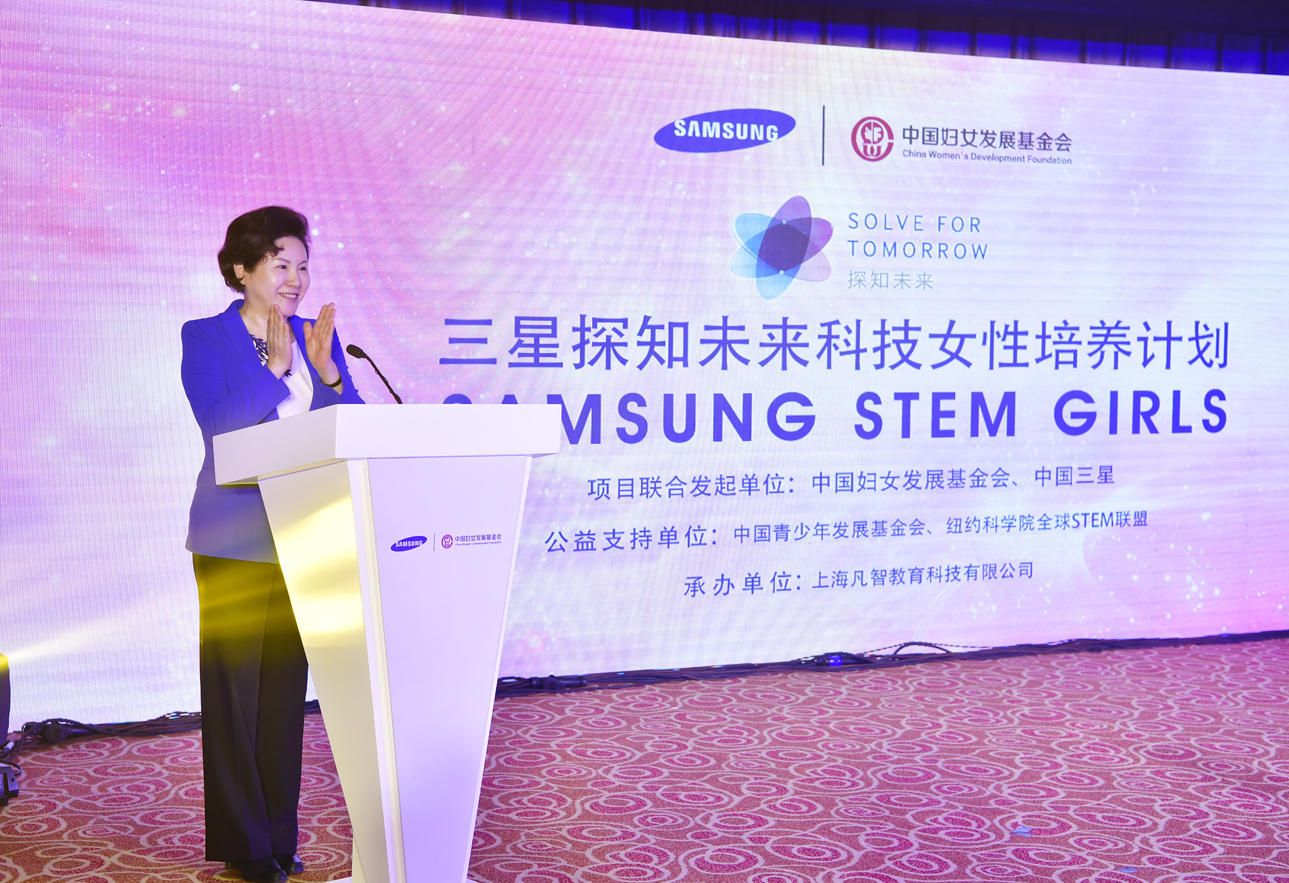 Meng Xiaosi gives a speech at the ceremony. [Fan Wenjun/women of China]
Huang Degui gives a speech at the ceremony. [Fan Wenjun/women of China]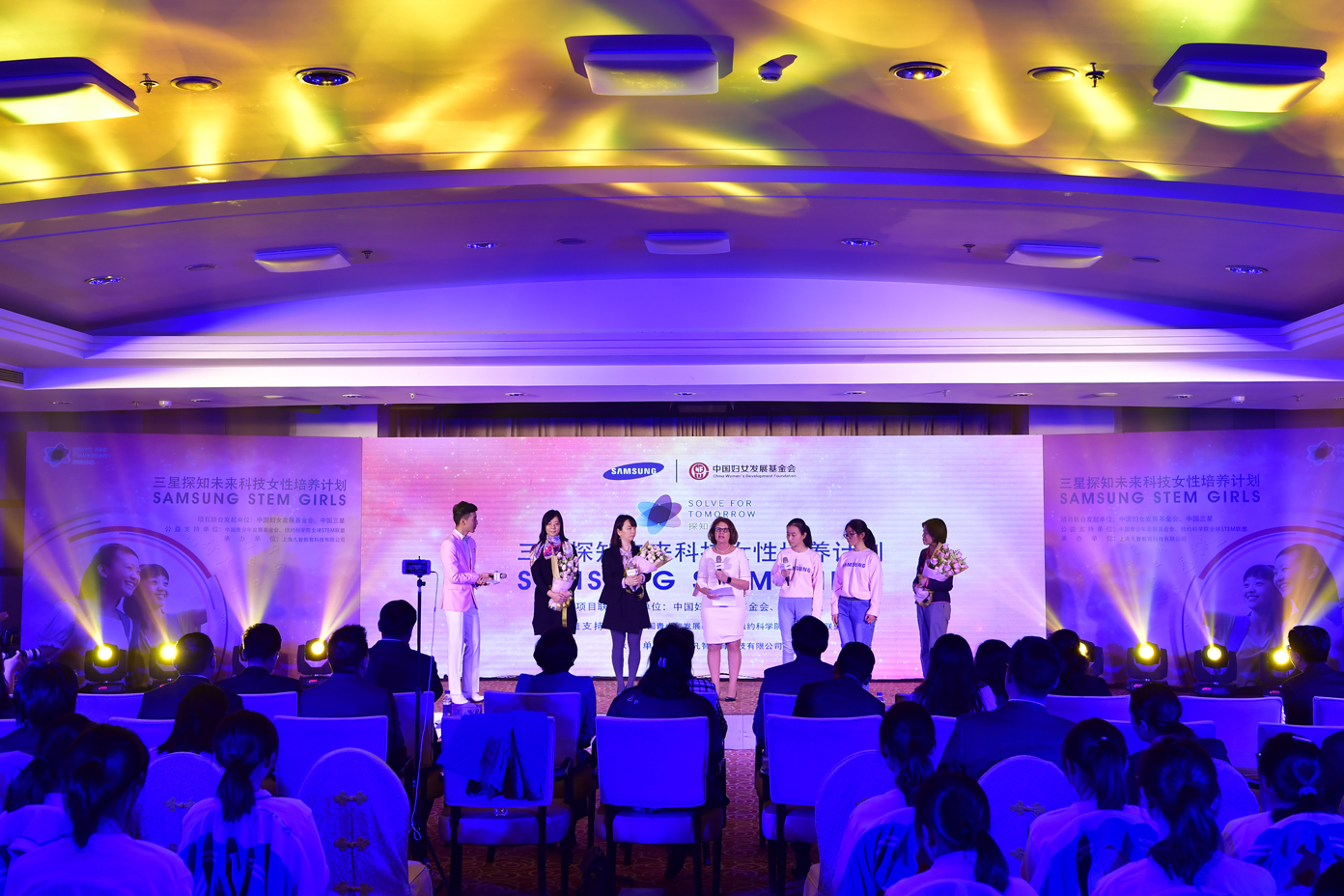 Distinguished guests answer a reporter's questions. [Fan Wenjun/women of China]
Distinguished guests inject the water of energy for the project. [Fan Wenjun/women of China]
Exhibition of the project. [Fan Wenjun/women of China]
(Source: Women of China)