ACWF Vice-President Song Xiuyan (R2) talks with Song Yonglan at the ceremony. [Women Voice]
The All-China Women's Federation (ACWF) hosted a live ceremony on June 13 to announce the top 10 inspirational stories about women's engagement in voluntary services nationwide.
The campaign to find representative female volunteers and share their stories was met with warm responses from women-oriented voluntary organizations and their members across the entire country when it was launched in December last year.
So far, there are 350,000 women-centered volunteer groups with 10.4 million registered volunteers in China.
The organizers received a total of 402 videos, of which 335 clips were entered into the online exhibition stage after the preliminary selection.
Ten finalist works were announced at the ceremony, fully demonstrating the spirit of women volunteers, who are highly relevant to the assistance and care for underprivileged groups including senior, physically-impaired and poverty-stricken people, and rural so-called "left-behind" children, as well as those involving the protection of the natural environment and the nationwide battle against poverty.
Three leading characters from the prize-winning works shared their volunteering experiences with and explained their multiple means of assistance to disadvantaged persons to nationwide audiences during the live broadcast event.
Meanwhile, Song Yonglan, a female patient with leukemia from Beijing, talked about a visit made by Song Xiuyan, Vice-President and First Member of the Secretariat of the ACWF, to her home in December 2015.
Along with other attending volunteers, Song Xiuyan personally made dumplings for the patient and presented her a beanie as gift to her during the visit.
The touching scenes were included into the award-winning works.
During an interview at the ceremony, Song Xiuyan said the campaign aims to further mobilize women volunteers to engage themselves in providing underprivileged people with various voluntary services and to bring the Party's care to them under the guidance of grass-roots women's federations.
She pointed out that the future work on women-oriented voluntary services should act on the spirit of Xi Jinping Thought on Socialism with Chinese Characteristics for a New Era and the 19th National Congress of the Communist Party of China (CPC); implement relevant directives made by the Publicity Department and the Central Commission for Guiding Cultural and Ethical Progress; and, stick to the principle of people-centered development.
Such initiatives should also boost women's participation in voluntary services; promote the popularity of core socialist values; and, encourage women to play a bigger role in meeting the public's ever-growing demands for a beautiful life, said Song Xiuyan.
Qian Jihua, a volunteer from east China's Jiangsu Province, shares her inspirational story at the ceremony. [Women Voice]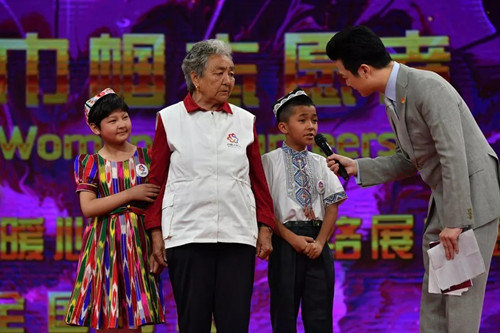 The host of the event talks with a teen beneficiary of voluntary services from Xinjiang Uygur Autonomous Region. [Women Voice]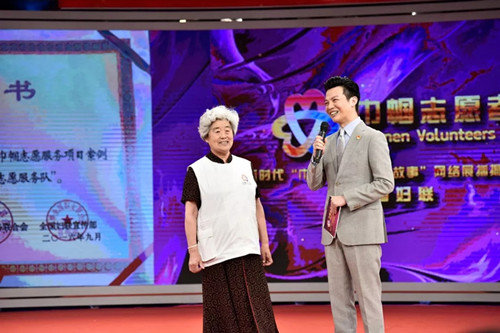 Ge Jidi, a volunteer from Beijing, shares her story at the ceremony. [Women Voice]
Song Xiuyan speaks at the ceremony. [Women Voice]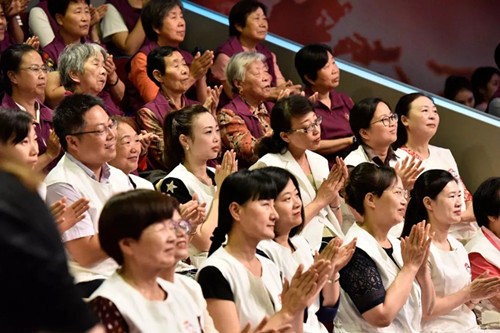 Participants at the ceremony [Women Voice]
(Source: Women Voice/Translated and edited by Women of China)