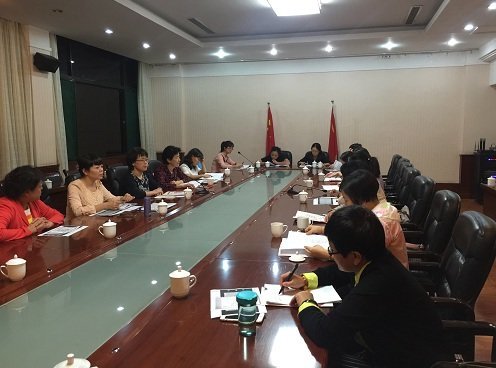 Officials hold a meeting. [Women of China]
Representatives of delegations from Iran, Turkey, Sri Lanka, and seven Chinese provincial-level administrative regions along the Silk Road attended the preparatory meeting for a women's handicrafts fair in China's northwestern city of Xi'an, Shaanxi Province, on September 22, 2015.
The "Silk Road on Fingertips" Fair of Women's Handicrafts from Countries, Provinces (Regions, Cities) along the Silk Road was scheduled to open on September 24.
At the meeting, Wang Yu'e, vice-president of Shaanxi Women's Federation (SWF), made a speech to welcome the attendees and briefed them about the event.
"The expo was organized to answer the call of 'holding a Shanghai Cooperation Organization (SCO) states commodity fair' made by President Xi Jinping at the 14th meeting of the Council of Heads of State of the organization in 2014," said Wang.
"We uphold the principle of promoting innovation and cooperation, and strengthen publicity via social media platforms," she added.
"We hope the expo can help improve communication between women in Shaanxi and their counterparts along the Silk Road," Wang remarked.
Later, the attendees unveiled preparatory plans for the event, and local officials introduced exhibition areas, schedules, services and other details.
The expo marked the first activity of its kind organized by SWF, and was a highlight of the 2015 SCO Countries Commodity Fair, displaying many unique goods and initiatives, according to a spokesperson.