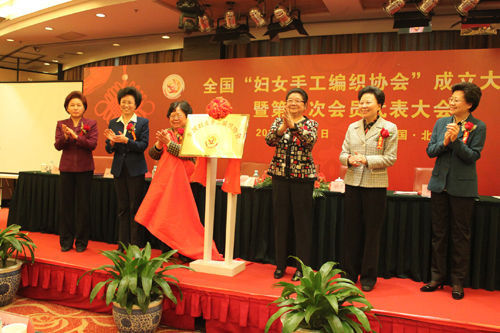 The inaugural meeting of the All-China Women's Hand-knitting Association on April 21 in Beijing. [Women of China/Li Wenjie]
The All-China Women's Hand-knitting Association, founded on April 21, 2011 in Beijing, is a national non-profit social organization aiming to promote women's employment and self-employment in China, helping grassroots women realize employment and self-employment by creating handicrafts and achieving local employment for the left-behind rural women.
The Association, under the All-China Women's Federation, seeks governments and all social walks' support in policies, information and resources in its efforts to develop an association-company-farmer(woman) business model, which includes both production and marketing.
It strives to explore new models to make hand-knitting's a brand, a scale, and an industry, as a platform for promoting women's employment.
Women's federations at all levels would combine hand-knitting projects to the microfinance loan program to aid involved enterprises and women's development and to make full use of the Association to help rural left-behind, jobless, disabled, middle-aged women, senior women, and single mothers.
The foundation of the All-China Women's Hand-knitting Association, with support from the Ministry of Culture, the Ministry of Civil Affairs, and the China Disabled Persons' Federation, is an important measure to further carry out the Central Government's requirements for protecting and improving people's livelihoods and strengthening social management's innovation and service.
It plays an important role in promoting women's employment, inheriting Chinese traditional culture, and maintaining social harmony and stability.
At present, the Association has a total of 338 members.
Hand-knitting is environment-friendly, requiring less capital and having good employment flexibility; and it can be a livelihood project to solve the impoverished and vulnerable women's employment problems, and improve the poor families' income.
In China, some local associations that implement hand-knitting have been founded, benefiting 10 million women in 50,000 villages and town across the country.