A group of craftswomen from central China's Hunan Province presented a multitude of their works at the Women's Handicrafts Expo launched on October 22 in Yiwu, a famous trading city in east China's Zhejiang Province.
Led by Xi Luhua, vice-president of the Hunan Women's Federation, the exhibitors from the newly-founded Huxiang Needlework Association wowed visitors with their spectacular pieces of Xiang embroidery, Dong brocade, bamboo hats, patchworks and palm woven wares.
Cui Yu, vice-president and member of the Secretariat of the All-China Women's Federation (ACWF), visited the stands of the Hunan exhibitors and had amiable talks with them. After getting a general idea of the handicrafts development and women's employment in the province, she encouraged the stand owners to bring more valuable job opportunities to local women.
To the great surprise of the Hunan group, their distinctive works attracted many visitors and potential buyers on the first day.
In recent years, working staff at the Hunan Women's Federation have been developing women's handicrafts as a priority, so that the local women can make money at home while taking care of their children and family seniors.
So far, some 150 working units of various handicrafts have been established in the province, with over 2,000 craftspeople trying to lead the way to get around 150,000 local women out of poverty.
The Women's Handicrafts Expo has attracted the participation of more than 230 women's hand weaving associations and companies. It is organized by women's federations from each of China's provinces, autonomous regions and municipalities as well as the women's federation of Xinjiang Production and Construction Corps.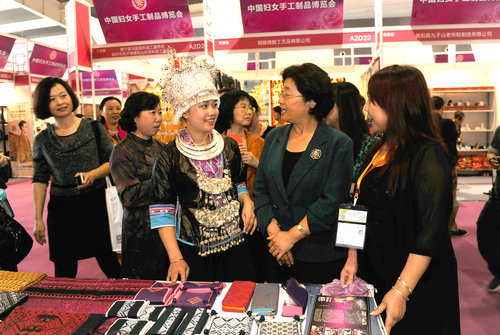 Cui Yu, vice-president and member of the Secretariat of the All-China Women's Federation (ACWF), visits the stands of the Hunan exhibitors and has amiable talks with them, at the Women's Handicrafts Expo in Yiwu. [Hunan Women's Federation/Huang Yun]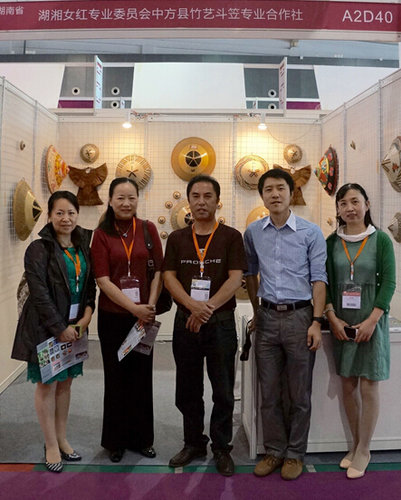 Some of the Hunan exhibitors at the Women's Handicrafts Expo in Yiwu [Hunan Women's Federation/Huang Yun]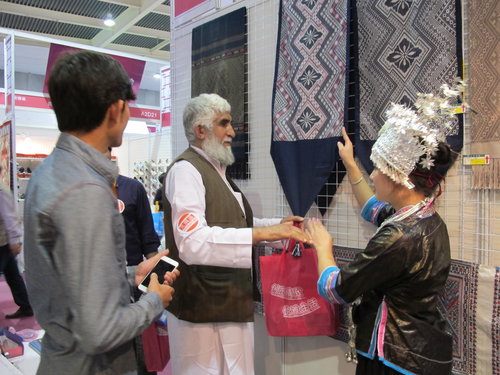 A Hunan exhibitor introduces her embroidery works to foreign visitors. [Hunan Women's Federation/Huang Yun]
(Provided by Hunan Women's Federation)