The President of the department for development of the All-China Women's Federation, Cui Weiyan, awards expert craftswoman Jiang Zaihong with a gold medal. [Hunan Women's Federation/Huang Yun]
This year's China Women's Handicraft Expo, hosted by The All-China Women's Federation (ACWF) in Yiwu, east China's Zhejiang Province, closed its final curtains on October 25.

The Professional Committee of Hunan Women's Federation organized a total of six booths showcasing traditional embroidery, Miao minority stitching, patchwork, Dong minority brocade, palm fiber weaving, and bamboo works from the central China province.

Over 1,100 pieces were carefully analyzed and graded by experts and via online voting after being selected by the provincial women's federation. Finally, the meticulous design of arts and crafts master Jiang Zaihong, with her double-sided embroidery piece "The Tibetan Mastiff and the Tiger" and a patchwork piece entitled "The Laughing Face," made in a village in Yongxing County, Hunan Province, ended up distinguishing themselves from the masses by respectively winning the gold medal in the category of Minority Handicrafts and the award for "most admired."
The embroidery also received a commendation of excellence from Hunan Women's Federation.

At this year's event, there were 1,664 booths representing works from all of the 31 Chinese provinces. There were also around 230 displays by construction corps in northwest China's Xinjiang Uygur Autonomous Region. Together, the displays generated orders worth over 16 million yuan (U.S. $2.5 million).

In terms of those awarded, 10 members earned gold medals, 12 earned silver, 31 exhibitors were named the "most admired," and 15 received commendations of excellence.

Although embroidery has been a part of Hunan's cultural history for over 2,000 years, the ability to create a piece of double-sided embroidery, which traditionally depicted the same image on each side, was invented much later and the skill was practiced only among the most talented of craftspeople.

In the 1980s, this technique was refined by the Hunan Embroidery Research Institute to allow both sides of the object to portray different images. Embroiderers usually work in pairs, with each worker hiding their partner's stitches under their own design. An article by Que Zhang in the International Journal of Scientific Research reports that embroiderers typically spend about three years in training, and that while small pieces take a few weeks to complete, larger works (often as large as 2.4 meters wide) may require several months.

Later this year, seven departments and committees from Hunan Women's Federation will host a handicraft entrepreneurs competition to fit in with the national federation's push to encourage female entrepreneurship and innovation. They have already collected over 100 works representing each of the major categories of handicrafts, including embroideries, brocades, paper cuttings, sculptures, and more.
Director of the rural department for development of the All-China Women's Federation, Wang Haijing (far left) poses for a photo with a group of winners from Yongxing county. [Hunan Women's Federation/Huang Yun]
President of the department for development of the All-China Women's Federation, Cui Weiyan (R), stands with winners. [Hunan Women's Federation/Huang Yun]
'The Tibetan Mastiff and the Tiger' won gold in the category of minority handicrafts at the exhibition. [Hunan Women's Federation/Huang Yun]
'The Dream of the Chinese Dragon', a palm weaving made by the Jialin workshop in Hunan. [Hunan Women's Federation/Huang Yun]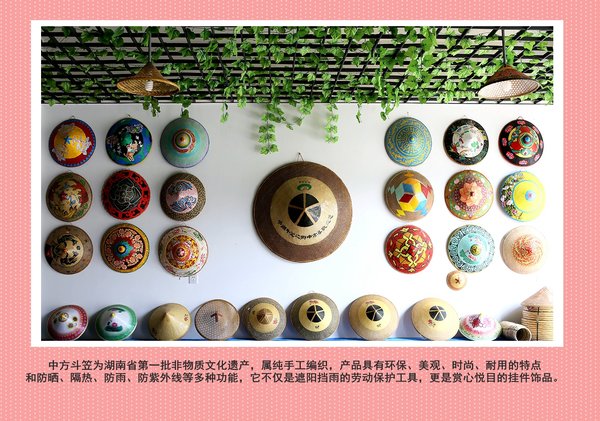 Bamboo hats from Huaihua in Hunan are a part of China's national intangible heritage. [Hunan Women's Federation/Huang Yun]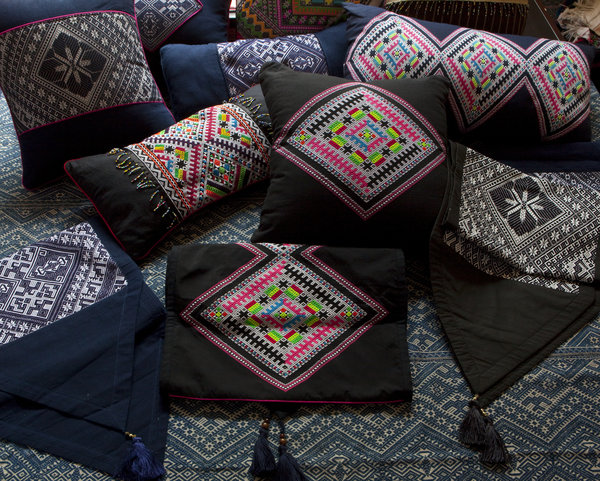 Examples of brocade by the Ah La Ye Dong Brocade Weaving Development Company from the Tongdao Dong Minority Autonomous Region, Hunan Province. [Hunan Women's Federation/Huang Yun]
(Source: Provided by Hunan Women's Federation/ Translated and edited by Women of China)