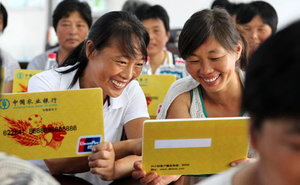 Nearly 40 women received small-loan saving accounts in Huaibei of east China's Anhui Province [Huaibei Daily]
An acre and a half of cultivated fields, two acres of scrubland, 40 hen houses, a yearly production of 12,000 chicks and 10,000 chickens: these are the proud achievements of Hu Kaimei, a woman entrepreneur from Wenquan Town, Kai County in southwest China's Chongqing Municipality.
Hu has spent the past seven years establishing her own modest agricultural business, raising and selling pheasants, and it has recently been recognized as a demonstration base for Chinese female entrepreneurship.
According to Hu, she began to raise the feathery animals in 2005 and expected to grow the venture. In 2012, she came up with the idea of expanding her livestock farm upon learning that the local County Party Committee and government had issued a policy supporting middle and small-sized enterprises through micro-lending.
After carefully studying her plan, women's federations at both the township and the county level asked the relevant departments to offer her guidance at the hennery and helped her get a small guaranteed loan of 100,000 yuan (U.S.$15,700).
Hu built an indoor barn, improved the environment of the brooders — the heated outbuildings where the birds live — and scaled up her business. At the end of 2012, Hu's farm, which earned an annual income of more than 100,000 yuan and created jobs for four local residents, was named as an exemplary model for female entrepreneurship.
Like Hu, Guo Fangqin, a college graduate elsewhere in the county, set up an agricultural cultivation center with her skills in applying nutritional solutions and growing saplings with branches. However, the center was once on the verge of bankruptcy due to Chongqing's unforgiving climate featuring hot summers and cold winters. Her problems extended to immature tree samples and lack of finance.
Upon hearing her plight, the Women's Federation of Kai County went to her center and worked out some ideas for her. In 2012, Guo succeeded in applying to establish a micro-enterprise; she acquired a government subsidy of 40,000 yuan (U.S. $6,300) and got a small guaranteed loan reserved for women worth 80,000 yuan (U.S.$12,600).
Since 2010, Kai County has granted small, guaranteed loans of around 951 million yuan (U.S. $149 million) in total to women passionate to start their own businesses.
The Women's Federation and the Human Resources and Social Security Bureau of Kai County formulated documents including the "Suggestions on Encouraging Urban and Rural Women to Start Businesses and Improve Employment with Small-sum, Guaranteed Loans" and the "Notice on Further Promoting Work related to Small-sum Guaranteed Loans for Women."
In addition, the Women's Federation of the county also takes women graduates from university, homecoming female migrant workers, poverty-stricken women, rural women and laid-off women as their major targets for assistance, providing a maximum loan with discounted interest of 100,000 yuan (U.S.$15,700).
In terms of implementation, the Women's Federation of Kai County has set up a window to grant loans for female entrepreneurs, simplifying the procedures for women qualified to applying for the funds.
At the same time, it has also adopted a "green passage" policy for women who set up family farms and housekeeping service agencies; female college graduates who major in knitting; and rural and poverty-stricken women engaged in business startups. The federation issues recommendation letters directly to the employment bureaus for review and the loan will be approved within three days at best.
Besides, the federation has also built up a training and evaluation system and launched a linkage model based on the idea of "small, guaranteed loans plus micro-enterprise starter training." Furthermore, according to the follow-up service mechanisms, grassroots social security workers and leaders from the women's federation pay return visits to the loan-receiving firms every quarter, helping them solve problems and difficulties that occur in their development process and increasing the odds for these firms to succeed.
(Source: China Women's News/Translated and edited by Women of China)