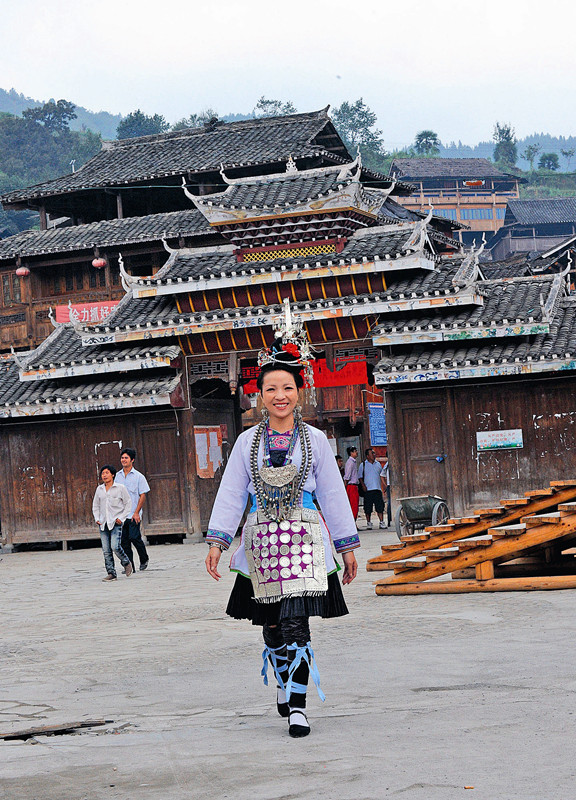 Jia Meilan, a folk singer of the Dong ethnic group [Women of China English Monthly]
Jia Meilan, 36, was born in Xiaohuang, a village in Congjiang, a county in Southwest China's Guizhou Province. Xiaohuang is well-known for the grand songs of the Dong ethnic group. Jia is a famous singer in Xiaohuang. In 2013, Jia and other women established Dongxiang Yinxiang Agritainment (a village inn where customers can eat, stay overnight, watch performances and/or participate in other activities). Jia provides delicious dishes, high-quality services and song and dance performances. Now, Jia's agritainment center is a model agritainment facility in Congjiang County.
The ceremony to launch the Tourism Relieving Poverty, Industry Association in Action initiative was hosted by China Women's Development Foundation and the Women's Tourism Commission, under the China Tourism Association, on May 11 in Beijing. Jia attended the ceremony, as a representative of the beneficiaries of tourism development in her hometown.
Early Years
The grand songs of the Dong ethnic group date back more than 1,000 years. The songs are popular in Dong villages in Liping, Congjiang and Rongjiang counties of Guizhou Province, and in Dong villages or counties in Hunan Province and Guangxi Zhuang Autonomous Region. The songs do not require either a conductor or musical accompaniment.
Jia began learning Dong songs when she was young. She sang well by the time she was 10 years old. Back then, the villagers referred to her as the "village's little lark." Now, Jia is a well-known inheritor of the grand songs of the Dong ethnic group. The locals call her the "King of singing."
Dong people believe a singing teacher is a person who has the most knowledge. So, the villagers respect Jia.
Owl, a children's song long popular in Xiaohuang, was Jia's favorite song when she was young. Jia Fuying, Jia Meilan's grandfather, wrote the song. Jia Fuying attended an old-style, private school when he was young. He has written down the words to the Dong songs, and that has helped the locals preserve and pass down their traditional songs.
"All of the people in the village like to sing. The children grow up with songs. Songs exist everywhere in our daily lives. 'Food supports the body, while songs support the heart' is a common saying among the people of the Dong ethnic group. We believe that singing is as important as eating," says Jia Meilan.
"We like singing. It is an honorable thing for us if we are able to sing well and/or sing more songs than others. We use songs to express our feelings. There are 62 stations for teaching singing in Xiaohuang Village. There are 57 choruses organized by the villagers. The choruses consist of more than 1,700 members.
"Villagers prefer sons to daughters. I did not go to school when I was young. I was learning to weave cloth, make crafts and do household chores and farm work … I would sing even during intervals while doing household chores. I was able to leave the village and learn new things, because I went out to sing. However, all of the money I earned during performances and competitions was used to pay my brothers' tuition fees," says Jia Meilan.
Establishing Agritainment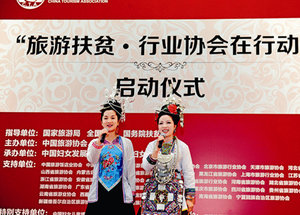 The ceremony to launch the Tourism Relieving Poverty, Industry Association in Action initiative [Women of China English Monthly]
Jia Meilan has often performed in other cities over the past 20-plus years. In 2009, she was named one of the distinguished inheritors of folk culture in Qiandongnan Miao and Dong Autonomous Prefecture by the prefecture's government. In 2013, Jia Meilan performed in the United States.
"I sing well. But that has not helped me improve my life, or solve the problem of the villagers' poverty. I would go to other tourist attractions and villages of the ethnic group when I had free time. I learned how to develop tourism from the locals," recalls Jia Meilan.
An increasing number of travelers, from China and abroad, have flocked to Xiaohuang since the Guiyang-Guangzhou High-speed Railway and the Xiamen-Chengdu Highway opened. The tourists want to see the locals perform their songs and dances. Now, the locals depend on tourism, and they are becoming increasingly wealthy.
The 10th Congjiang Grand Songs of Dong Ethnic Group Festival was held in Xiaohuang in 2011. That was the year that Jia Meilan and Wu Shiying and Wu Fenghua (two women villagers in Xiaohuang) established Dongxiang Yinxiang Agritainment center. The facility offers high-quality services and delicious foods. It also receives many customers, who come to eat and/or use the accommodations every day.
Jia Meilan established Gewang Renjia Agritainment in 2014. Jia that year also established a song-and-dance team to perform Dong songs and dances in the agritainment.
"I want to promote the folk culture of the Dong ethnic group … I hope I can contribute to the development of our village's tourism. There were 286,000 travelers who came to Xiaohuang Village from China and abroad in 2014. The locals have become rich," Jia Meilan says.
"My family lived on farming and the salary I earned by performing before I opened the agritainment. My family earned nearly 10,000 yuan (US $1,587) per year before 2013. I earned more than 200,000 yuan (US $31,746) within one year after I opened the agritainment. I have helped 15 villagers get jobs. Now, nearly all of the villagers benefit from the tourism," says Jia Meilan.
"Now, I not only run the agritainment and perform the grand songs, but I also make crafts, do household chores and look after my son ... I am a single mother ... I believe that I must depend on myself and strive to become stronger if I want to live a happy life. I must work hard, and I cannot depend on others. Now, I only want to run the agritainment well, promote the grand songs of the Dong ethnic group, look after my son and help other women villagers increase their incomes," Jia Meilan says.
(Source: Women of China English Monthly August 2015 Issue)