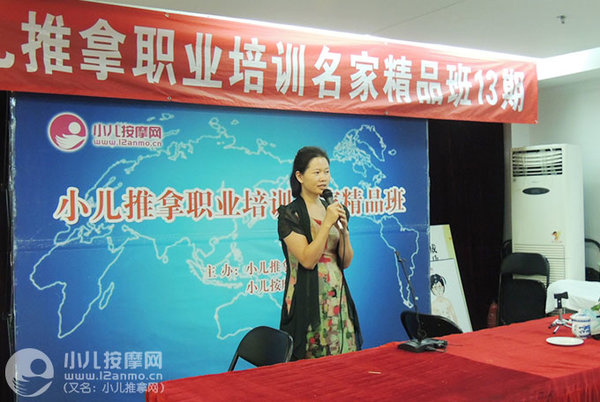 Chen Jianling gives a lecture. [12anmo.cn]
A woman from south China's Guangdong Province sacrificed her former office career to promote traditional Chinese medicine (TCM) and has developed products to improve the health of children.
Chen Jianling, 46, worked as a manager for State-owned and foreign-investment firms before she was inspired 10 years ago to find out an effective way to prevent children from catching colds and other illness and avoid overuse of antibiotics.
Back then, Chen was preoccupied with her daily work and had little time to take care of her daughter, whose physical health was poor.
Chen made up her mind to acquire TCM techniques in relation to infant massage when she heard of its effectiveness in curing common diseases.
Chen went to Beijing and followed two authoritative figures from Beijing University of Chinese Medicine to learn relevant knowledge and skills in August 2013.
Chen received satisfactory results when she utilized her newly acquired crafts to improve the health of her second child. After a while, more and more people proactively invited her to give treatments to their children and she got positive responses in the process as well.
Chen went to Shandong, Henan and Liaoning provinces to learn the management of relevant plants before she eventually founded her own enterprise.
Chen relied on standardized procedures and software-based operations to support the growth of her business from the start. Meanwhile, she has worked with her team to produce nutritional supplements for children.
In addition to setting up a dozen of branches, Chen has often held lectures in schools, residential communities and other public places, and instructed audiences about how to practice massage on their kids.
Chen said in an interview that her greatest wish is to enlighten all Chinese mothers about how to nurture their children in a scientific method and ensure all Chinese children keep a distance from antibiotic drugs during their growth.
(Women of China)