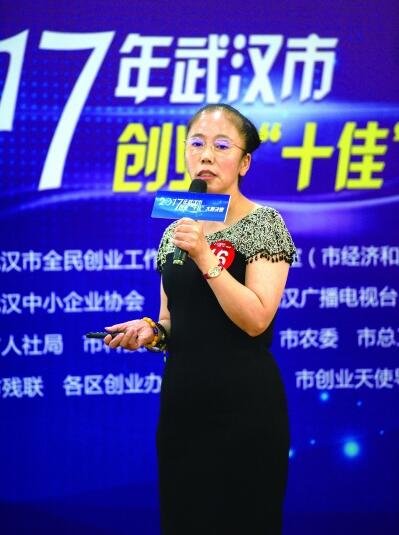 Luo Xizhen shares her business story at an awards ceremony. [cjn.cn]
A middle-age woman from the city of Wuhan in central China's Hubei Province has carried out many good deeds, including starting a nursing home for elderly people and helping farmers improve local aquaculture systems, for more than 20 years.
Luo Xizhen, 49, comes from a rural family in Wuhan. She became an employee in a local factory when she graduated from senior high school in 1984.
Aiming to enrich herself and find a proper orientation, Luo signed up for a correspondence course and tried her utmost to acquire vocational techniques outside of her work hours.
Luo lost her job when the factory closed in January 1995. However, she and her husband worked together in aquaculture. They made a great success in their family business in just two years, even though they started from nothing.
The couple founded their own firm in 2002 and intended to further boost their efforts to help local farmers improve their livelihoods, especially by increasing their family income.
As many as 489 households have built a partnership with Luo's firm in the involvement of aquaculture. The engagement has helped many of them get rid of poverty and even become prosperous.
Meanwhile, Luo and her husband came up with an idea to open a nursing home for seniors in 2015 when they found many elderly people living without children in their community.
After a visit to other nursing homes, the couple extended an application to the local department of civil affairs for authorization in the same year.
Their nursing home officially opened to the public when they got a letter of approval in March 2016. It has a total of 50 free beds reserved for elderly people from childless and impoverished families.
The nursing home has provided many local "left-behind" women (whose husband has gone away to find work in far-off cities) with employment opportunities in the meantime.
In addition to holding vocational training for local women, Luo has often extended a hand to college students from poverty-stricken families and disaster-affected people in Hubei for years.
(Women of China)