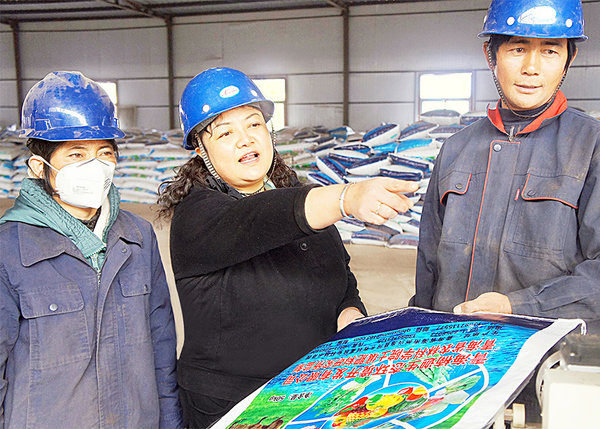 Jia Maotai(C) and two employees in her plant [zjnews.zjol.com.cn]
A middle-age Tibetan woman from northwest China's Qinghai Province has devoted herself to improving local herdsmen's lives and increasing their incomes through the recycling of animal manure in recent years.
Jia Maotai, 49, comes from a rural family in Xinghai County in the local Tibetan Autonomous Prefecture of Hainan. She still retains strong memories of her hometown ever since she followed her parents to settle down in the city of Xining in her childhood.
Jia felt sad when she learned that the natural environment in her hometown had deteriorated in recent years. Therefore, she kept asking herself what she can do to reverse the trend and correspondingly improve the livelihoods of her people.
With the support of her husband, Jia raised a fund and registered a firm in 2005. The enterprise involved the management of agricultural activities and urban landscaping, and infrastructure construction in Xinghai during the first few years of its establishment.
The focus of Jia's business began to shift to the processing of sheep dung into organic fertilizer in 2010 when local herdsmen often complained to her that they had no alternative way to dispose of animal manure.
In the past, local people would often deposit the dung around their houses, dump it into rivers or just burn it on open ground. After a while, they found that their conventional disposal of manure led to the deterioration of their living environment.
Jia undertook market research about the prospects for organic fertilizer across the nation before she eventually founded another company for the processing of animal manure, in 2011.
A year later, the firm began operation with an annual capacity of 50,000 tons of organic fertilizer. Up till now, Jia has set up four branches in another three counties in Hainan to further enlarge the scope of her business and benefit more locals. Their sales volume surpassed 10 million yuan (U.S.$ 1.56 million) last year.
To date, a total of 1,122 households have built partnerships with Jia and many of them have benefited much in the process. For instance, the annual income per family has seen an increase of 2,080 yuan (U.S.$ 325), while 300 people have found their employment in her enterprises.
Jia has been conferred with many awards and titles by local authorities and the All-China Women's Federation (ACWF) in recent few years in recognition of her decade-long efforts to improve the lives of local herdsmen.
Jia disclosed that the existing achievements had given her additional confidence in her endeavor to lead locals on a path to prosperity.
(Women of China)