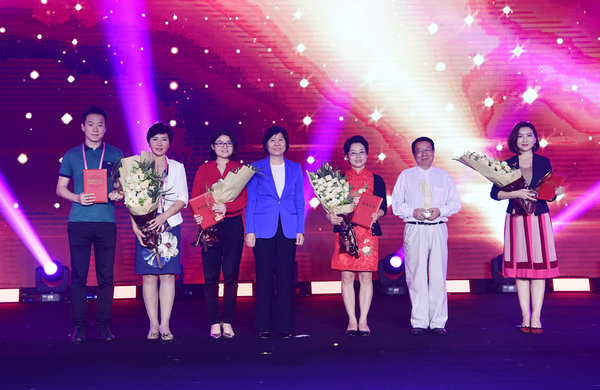 Shen Yueyue (C) and prize-winners pose for a photo during the awarding ceremony. [Women of China/Fan Wenjun]
The finals of the first China Women's Entrepreneurship and Innovation Contest was held on September 20 in the city of Hangzhou, east China's Zhejiang Province.
The event was jointly organized by the All-China Women's Federation (ACWF) and Zhejiang Provincial People's Government.
Officials in attendance included Shen Yueyue, vice-chairperson of the Standing Committee of the National People's Congress and president of the ACWF; and, Song Xiuyan, vice-president and first member of the Secretariat of the ACWF.
The campaign aimed to establish a platform to display women's entrepreneurship and innovative projects initiated by women, to explore schemes that are suitable for women, and to encourage women to develop innovative spirit and entrepreneurial competence.
Initially launched in May, the campaign has involved 560,000 female participants aged from 18 to 81 and included 1,242 schemes in total.
Before they showed up on the finals, contestants passed through several rounds in terms of recommendations, training and reviews.
Some 30 female entrepreneurs shared their business stories via multiple approaches such as road-shows and replies to public queries during a special session on September 19.
They have various backgrounds, including overseas graduates enthusiastic about innovative projects, and students concerned about agriculture, farming and villages.
Statistics show the intentional accumulative investment of all the schemes of the contest has reached 1.25 billion yuan (U.S.$ 190 million).
Awarded teams of entrepreneurs along with their projects will receive follow-up services such as startup training and guidance from relevant investment agencies and foundations.
Introduction to Prize Winners
Winner of Most Creative Entrepreneur Award: Zhou Jialin
Despite the fact that she is hearing impaired, the 41-year-old entrepreneur has been running the business of palm tree leaves weaving since 2014 in the city of Changsha, central China's Hunan Province.
Zhou and her husband jointly utilize delicate packages to highlight the themes and designs of their handicrafts, adding up their annual revenue of about 400,000 yuan (U.S.$ 60,650).
Their decorative products have won many prizes at various competitions and further gained recognition as an intangible cultural heritage project under the support of the local government.
Winner of Most Environment-friendly Innovation Award: Sun Ying
Sharp-minded entrepreneur Sun Ying in 2012 founded a company in Zhejiang to foster her ambition in the field of robotics technology and visual art.
To improve the tech-based applications and products, Sun launched an institute in Silicon Valley, U.S., in 2014 which is committed to research and development about visual tech related to robots.
Meanwhile, Sun's company cooperated with higher education universities and colleges to further deepen the research.
So far, many of their patented products have been utilized in fields of manufacturing, logistics and new energy.
Winner of Best Social Influence Award: Qiao Xue
Qiao, 33, is a role model in preserving traditional handicraft skills and fostering the employment of women from disadvantaged households, says a commentator.
The young businesswoman's previous overseas study experience enabled her to sell local leather-made artifacts from northwest China's Ningxia Hui Autonomous Region to the global market.
She built an overall network to sell leather products and protect local unique manufacturing skills.
Her workshop produces sculptured leather murals which are praised as featuring both high artistic and commercial values, and creates special leather products for international brands such as UGG and BMW.
Winner of Most Commercially Valuable Project Award: Li Xueli
Li, 44, is a senior manager of a mobile payment platform related to medical insurance.
Through the online platform, residents can gain easy access to services of hospitals and pharmacies such as receiving their social insurance cards and checking their medical fees, said an organizer.
The platform has passed the mid-term certificate authorized by the Ministry of Human Resources and Social Security and covers 210 million people among 66 cities nationwide, the organizer added.
It aims to provide data support and security to social security funds and personal information in line with increasing medical services on the Internet.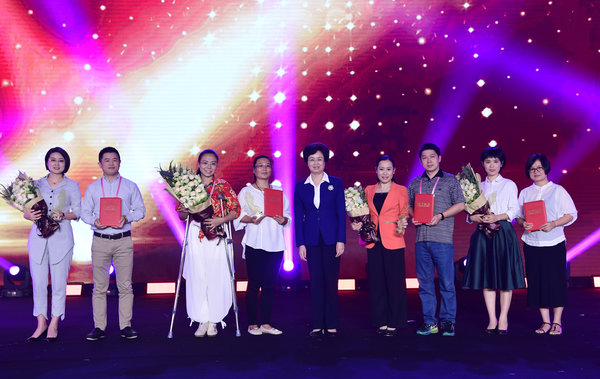 Song Xiuyan (C) and awardees [Women of China/Fan Wenjun]
Zhou Jialin [Women of China/Fan Wenjun]
Sun Ying [Women of China/Fan Wenjun]
Qiao Xue (R) is interviewed at the ceremony. [Women of China/Fan Wenjun]
Li Xueli (R) shares her ideas at the ceremony. [Women of China/Fan Wenjun]
(Women of China)