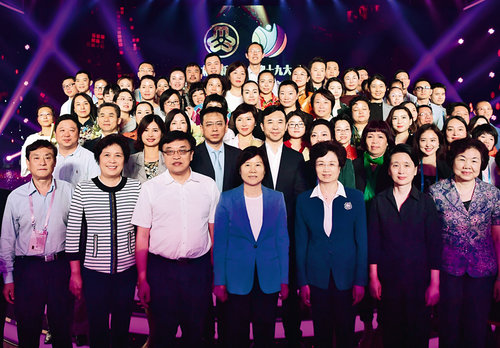 Shen Yueyue (C, front) and Song Xiuyan (3rd R, front) pose for a photo with participants of the contest. [Women of China/Fan Wenjun]
The final round of the first China Women's Entrepreneurship and Innovation Contest was held on September 20 in Hangzhou, in East China's Zhejiang Province. The All-China Women's Federation (ACWF) and Zhejiang Provincial People's Government organized the event, to establish a platform to display women's entrepreneurship and innovative projects, and to encourage women to develop an innovative spirit and entrepreneurial competence.
Since women account for half of China's overall population, they play a vital role in entrepreneurship and innovation, Song Xiuyan, Vice-President and First Member of the Secretariat of the ACWF, said during her speech at the final contest.
Other officials in attendance included Shen Yueyue, Vice-Chairperson of the Standing Committee of the National People's Congress, Che Jun, Secretary of the Zhejiang Provincial Committee of the Communist Party of China (CPC) and President of Zhejiang Provincial People's Congress, and Yang Liu, Member of the Secretariat of the ACWF. Approximately 600 representatives of women's federations, investment agencies and college students also attended.
Song said China's economy has entered a "new normal" period; the nation's economic structure is being constantly improved and upgraded, and the economy is being increasingly driven by innovation instead of input and investment.
In response to the call of the CPC Central Committee and the State Council to "encourage people to do business creatively and drive innovation," ACWF launched the Women's Entrepreneurship and Innovation Action in June 2015. The federation's intention was to motivate and instruct women to strengthen awareness of entrepreneurship and participate in related practices, resulting in many great achievements, said Song.
"We hope women will seize the event, as a good opportunity, to strengthen and improve their abilities to innovate and be creative. Also, women should turn their outstanding ideas into entrepreneurial and innovative efforts, and proactively participate in social reforms," added Song.
"In this way, women can achieve their self-realization and have a brighter future in the process of building a moderately prosperous society, in all respects, and in realizing the great rejuvenation of the Chinese nation."
Launched in May, the contest involved more than 560,000 women, aged 18 to 81, who competed in diverse fields, including education, modern agriculture, social services, and cultural and creative services. The organizers received 1,242 schemes, and the schemes were submitted from each region of China.
Participants included women with top educational backgrounds, as well as laid off workers and rural women.
To help women improve their innovative and entrepreneurial capabilities, the organizers invited experts, who offered free training, to work with 2,000 of the participants.
Additionally, the contest introduced several businessincubation platforms, and investment institutions provided one-on-one guidance to finalists.
To reach the final, the contestants completed several rounds of recommendations, training and reviews.
Thirty female entrepreneurs shared their business stories, via multiple approaches, such as road shows and replies to public queries, during a special session on September 19. Eight of the women competed in the final round on September 20.
Zhou Jialin won the Best Creative Award, for her palm-leaf weaving, an intangible heritage handicraft. Li Xueli won the Most Commercially Valuable Project Award, for her smart-payment platform for medical services. Qiao Xue won the Best Social Impact Award, for her traditional leather products, which she sells online. Sun Ying won the Best Eco-Friendly and Innovation Award, for her ID and positioning system based on stereoscopic vision.
Statistics released by ACWF show the combined intentional accumulative investment of the schemes reached 1.25 billion yuan (US $187 million).
Winners will receive follow-up services, related to training, guidance and financing, provided by supporting venture-capital companies and investment funds.
Prize winners [Women of China/Fan Wenjun]