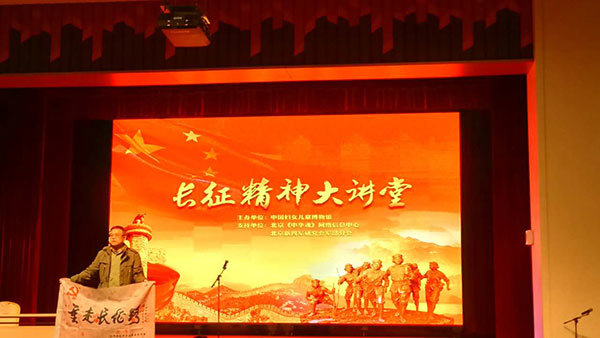 A narrator tells his personal story about the Long March at the seminar. [cnwomem.com.cn]
Chinese Red Army veterans and their offspring shared heroic stories about the Long March at a special seminar on November 18 held in Beijing at the China National Museum of Women and Children.
The event was timed to coincide with the museum's current exhibition "Everlasting Female Red Army Soldiers: Commemorating the 80th Anniversary of the Victory of the Long March," which had opened a few days before.
Liu Jian, a member of the National Committee of Chinese People's Political Consultative Conference (CPPCC), and vice-principal of a national solders' college, recalled his family history at the gathering. Liu is the grandson of General Zhu De and his grandma is Chinese politician Kang Keqing.
Li Yang, an offspring of Li Zhongquan, one of New China's first generals, also spoke at the event. He explained that both her grandma and aunt took part in the Long March and survived arduous days together.
Liu Songbai noted that his Red Army veteran relatives struggled during the journey to walk with just a pair of straw sandals, moving some audience members to tears.
Furthermore, Red Army veteran Wang Dingguo shared his memories during a live video interview.
Tian Jing, an offspring of one of veterans, reported that he retraced the route of the Long March and called on more people to learn from the historical event's "precious spirits".
"I was deeply inspired by the Long March stories, which constantly encourage me to overcome any difficulties in the present day," said Liu Siyang, a student.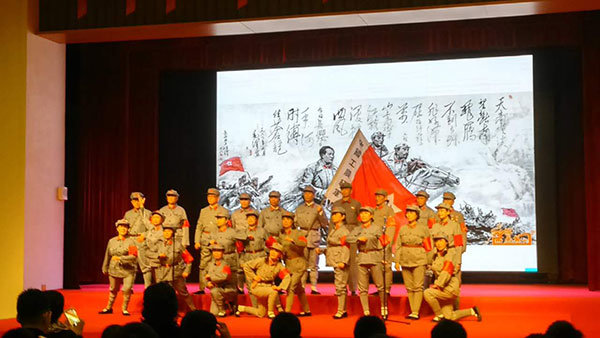 Red Army veterans' offspring wearing uniforms perform songs in memory of the Long March. [cnwomem.com.cn]
(Source: cnwomem.com.cn /Translated and edited by Women of China)