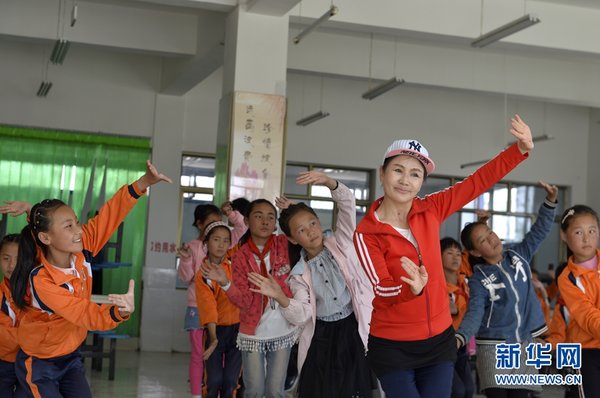 Jin Shumei teaches students to dance. [Xinhua]
A dedicated female arts professional in Jiuquan, northwest China's Gansu Province, has been promoting dance education among 80 schools in the city along with her volunteer teams since 2013.
Jin Shumei, 50, is president of the Xiaobaiyang Dance School in Jiuquan, as well as being the driving force behind a rural aesthetic project which promotes dance education for children in rural areas.
The project, which was launched by the Chinese Dancers Association (CDA), has helped over 30,000 students have a bright future, including one 12-year-old called Ma Changming.
Ma is a student of the Xiaojinwan Minzu School in Jiuquan. His parents are often absent since they have been working in south China's Guangzhou city for many years. So, he has to manage many family chores as well as organize his own studies.
Xiaojinwan Dongmen Ethnic Village is home to many ethnic minority families. In 1998, several ethnic people who lived in Gansu Linxia Hui Autonomous Prefecture migrated to the village.
Furthermore, due to the lack of education, many of the students in the village were unruly and the dropout rate was unusually high.
When Ma was in the third grade, he went to the dance class with his classmates.
"I never experienced a dance class before, so I never imagined that teacher Jin would praise me and ask me to demonstrate before the other students," Ma recalled.
"It was my first time to be praised by others, which is an unforgettable experience for me," he said.
For Ma, dance provided him an opportunity to enjoy the outside world. He has performed on stages in Shanghai and Hong Kong, which before he had only seen on TV.
Furthermore, the experience also encouraged him to do better in his studies, with a more positive attitude.
"I came second in the math exam last semester, and I will work hard to achieve my dream in the future," Ma said happily.

Teaching Unruly Students
Jin also pays much attention to unruly students. She says: "These students don't perform well in their studies, as they can't form good habits and are often looked down upon by others."
"However, I know that most of the students are reared in unhappy families and lack family discipline, so I think I should find their advantages to inspire them."
In order to lead more students to appreciate the joy of dance, Jin continuously demonstrates for them. Meanwhile, she often shares her own hard learned experiences to inspire them to do better.

Now, the local Jiuquan city has implemented the dance education mode in rural areas, whilst 200 teachers without dance experience have become the volunteers under Jin's guidelines.
Inspiring Poverty-stricken People
Jin said: "Through visiting many families over the past five years, I found that most impoverished families are impeded by their backward concept on education."
She said many parents still hold the idea that study is not as useful as working.
However, the dance education has provided a platform for students in rural areas to appreciate the outside world, which can bring them a different life from their parents' generation.

Feng Shuangbai, president of the CDA, said: "The volunteer team has really helped the students and parents."
"For students, the most important thing is not the dance movement, but their views and positive attitude towards society," Feng added.
"It's my dream to bring more art education resources to rural areas, and I should contribute for poverty-alleviation on the grassroots level," Jin said.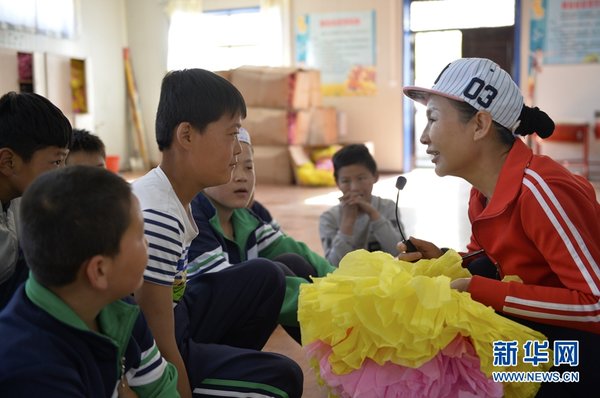 Jin Shumei talks with several students. [Xinhua]
(Source: Xinhua/Translated and edited by Women of China)