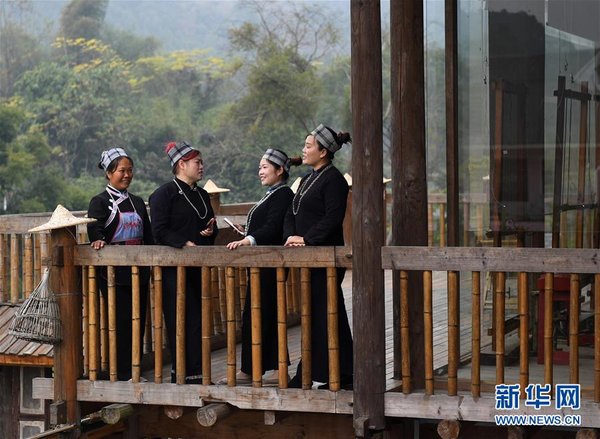 Liang Guihua, an inheritor of Zhuang ethnic folk songs, performs with local women.[Xinhua]
The local government and Party Committee of Guyuepo, a village near Nanning city in south China's Guangxi Zhuang Autonomous Region has been developing the local cultural industry to better implement the rural vitalization strategy in recent years.
Throughout history, Guangxi has been regarded as the Sea of Songs, whilst its capital Nanning has also enjoyed a reputation as the Paradise of Chinese Folk Songs.
Meanwhile, Guyuepo is renowned as the Home of Songs for the Zhuang ethnic people.
For villagers, songs occupy every part of their lives, especially during ceremonies such as funerals and weddings and other important occasions.
Locals express their feelings through songs in bamboo forests, threshing grounds or in cane fields.
The local government has been developing a culture-centered rural economy featuring the song culture and integrating the scenic Huayu Lake and the demonstration base of local special beef cattle industry, in the hope to push forward rural vitalization.
Fan Lihua produces handmade crafts. [Xinhua]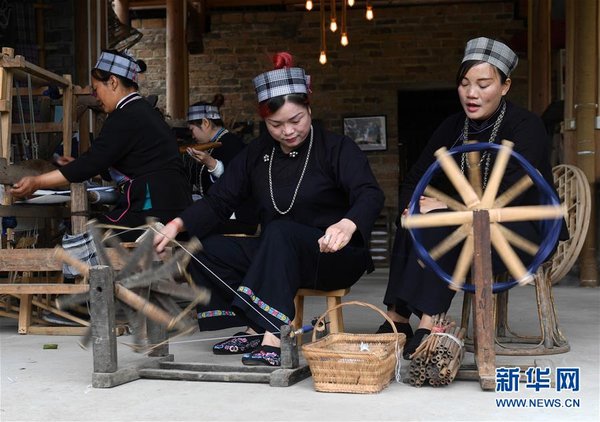 A group of Zhuang women shows off their traditional spinning skills. [Xinhua]
(Source: f.china.com.cn/Translated and edited by Women of China)