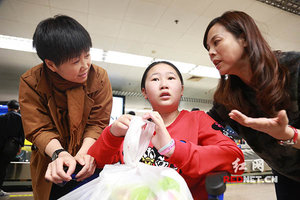 Zhou Meiling sits in her wheelchair. [rednet.cn]
Zhou Meiling, 12, was recently honored as a national moral model for risking her own life to save a 3-year-old boy from being run over by a truck.
Zhou lives in a poverty-stricken household in Wangcheng District of Changsha, capital of central China's Henan Province. Her mother is jobless and her father is a migrant worker in another city.
Despite her life's hardships, the little girl tries hard to improve. She is excellent both in her studies and behavior, and is always ready to reach out to others.
She is a good student in the eyes of her teachers, a good playmate in the eyes of her friends as well as an obedient daughter in the eyes of her parents.
When the young girl and her mother took a walk on a road on the evening of May 22, she saw a little boy suddenly rush out of the crowd to a nearby crossroads. At that moment, a truck was speeding forward from the other side.
Without thinking, Zhou quickly rushed towards the little boy and tried hard to drag him back and then push him to safety. However, it was too late for her to dodge away, leaving her left foot and leg hit by the wheels.
Zhou was sent to hospital as soon as possible. In the beginning, doctors predicted that she might face the risk of amputation. Fortunately, her injured leg is miraculously healing after five surgeries.
"The little girl is very brave. She never cried in pain in hospital," said her chief doctor surnamed Tang. "After a period of rehabilitation training, she is able to walk."
On October 13, Liu Yunshan, a member of the Standing Committee of the Political Bureau of the Communist Party of China Central Committee and director of the Central Commission for Guiding Cultural and Ethical Progress, met Zhou and other winners and nominees of the fifth selection of the National Moral Models in Beijing.
"I was the first to shake hands with Grandpa Liu and he asked me where I came from," said Zhou. However, as she was too nervous and excited, the girl failed to answer the question and just smiled at him.
"I never expected to be hailed as a moral model," said Zhou.
"In actual fact, I didn't think much when I saved the boy. My mother said saving people is just an instinctive reaction," said the brave girl.
By coincidence, Zhou's hometown, Changsha's Wangcheng, is the hometown of Lei Feng (1940-1962), the nation's most famous Good Samaritan, for whom Lei Feng's Day is observed on March 5 annually.
When asked whether she would save others in similar situations in the future, Zhou answered without any hesitation, "Yes, I will."
"While in Beijing, I met other moral models and have been moved by their stories. I think, I will do good deeds in the future," added the youngster.
(Source: cctv.com and k618.cn/Translated and edited by Women of China)