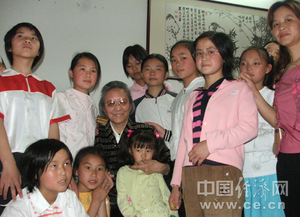 Gao Junzhi (C) poses for a group photo with children. [ce.cn]
A 95-year-old woman from southeast China's Fujian Province has given a total of around 200,000 yuan (U.S. $31,500) in financial aid over the past two decades to help more than 300 children attend school.
Gao Junzhi, a former official of the State Grid Fujian Electric Power Company, was honored as a National Moral Model at an award ceremony held in Beijing in October.
She was recognized for her consistent support of youngsters from impoverished families and disaster-affected regions across the country. Her good deeds have earned her the name of "loving mother" from the children she helped.
Early Experiences
Born into a scholarly family in the provincial capital of Fuzhou, Gao learned calligraphy from her father early in her life. After retirement, she focused on painting calligraphy works and made outstanding achievements in the field.
During the Chinese People's War of Resistance Against Japanese Aggression (1937-1945), Gao suffered from the experience of dropping out of school. In March 1947, Gao and her husband Huang Zhoukun started to participate in revolutionary work, with a deep sense of national feeling and will.
During the Cultural Revolution (1966-1976), she was uprooted to Chongan County in Fujian, where she witnessed numerous girls who were unable to empower themselves because they missed out on a schooling and were finally trafficked or got married at a young age, becoming victims of the time.
These things made a big impression on her, becoming the initial reason that she offered financial aid to rural girl children later on. "Knowledge can change people's destiny, and only when children acquire knowledge can our nation be full of hope," said Gao.
Consistent Donations to Impoverished Children
In 1991, Gao won a prize of 100 yuan (U.S. $16) in a calligraphy contest for the first time. On top of her retirement pay of about 300 yuan (U.S. $57) a month, which could cover her daily life, she planned to do something meaningful.
Learning about the Communist Youth League's advocacy of donating to the "Hope Project", she decided to post the bonus to the China Youth Development Foundation.
Since then, she has made donations time and again as soon as she had extra money. Later, she became a member of the Working Committee of the Care of the Next Generation under the Fujian Senior-citizen University and the State Grid Fujian Management and Cultivation Center.
Between 1991-2001, Gao funded three young girls in their schooling with 400 yuan (U.S. $63) annually for each, and kept long-term contact with them.
Lu Fengjin, from a village in Bama County in south China's Guangxi Zhuang Autonomous Region, was one of the fund-recipients. Lu was born into an impoverished family and her mother left her when she was very young. Shouldering the whole household chores in the family, she dropped out of school due to financial difficulties.
Learning about Lu's plight, Gao contacted the village committee and then got in touch with her, offering her financial aid since then.
In October 1997, Lu's father was ill in the hospital, and she was about to drop out of school again. Learning about this, Gao was anxious. As she could not walk due to an acute episode of disease, she asked her younger brother to post 300 yuan (U.S. $57) to the girl immediately.
Gao's care was a ray of sunshine in the girl's mind, encouraging her to march on. "I always think that after growing up, I must try my best to help others like you," she wrote in the letter to Gao.
Contributions to Spring Bud Project
One afternoon in January 2002, Gao learned from a newspaper about the Spring Bud Project launched by Fujian Women's Federation and the Fujian Women and Children's Foundation. She put down the newspaper immediately and counted the family's savings. Keeping aside enough money for the family's daily expenses, she decided to donate the rest of the 15,000 yuan (U.S. $2,400) to the project, helping 25 children in mountainous areas.
That year she concentrated on the project assiduously, and whenever she was free, she went by bus to the headquarters of Fujian Women and Children's Foundation to ask about its implementation.
Due to long-term overwork, she often felt a discomfort in her waist, but she stuck to her act of kindness.
In January 2003, to help more impoverished girls with their schooling, she opened a Spring Bud class at a primary school in Datian County, with more than 40,000 yuan (U.S. $6,300), an amount of money which was meant to be for her medical treatment. This was the biggest donation that the project has received from a member of the working class within the province.
On the afternoon of September 9, 2005, the 85-year-old woman went to the primary school by bus, to watch the children in the class. The bumpy road journey took her seven hours. Arriving at the school, the 50 children rushed to her excitedly and surrounded her, chattering.
A girl student named Li Xiaohong presented Gao with 100 folded paper cranes on behalf of the whole class. "We wish Grandma Gao peace …" she said, unable to hold back her tears.
Shaking her hand, Gao comforted her gently. The girl hugged the old lady and she kissed her forehead in turn. When she was about to leave the classroom, her eyes were full of tears.
In the five years that followed, the students in the Spring Bud class grew up healthily under the care of Gao, and in the summer of 2008, all the 50 students went to senior high schools or technical secondary schools.
In August 2012, Li Xiaohong went to Gao's home, bringing along her university acceptance letter and a bucket of eggs, to tell her about the good news and express her thanks.
"I was from Chiyuan Village and had to walk two to three hours a day to the primary school, climbing a hill with rice for a whole week on my back. I cooked the rice at the school and had only one yuan (U.S. $0.16) for living expenses a week," said Li.
The grandma's help had given her infinite power and support. They wrote letters to each other at first and Li visited her constantly afterwards, so they have held a deep affection. After graduating from university, Li now works at a company in Sha County.