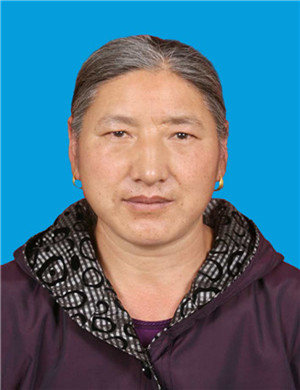 Leng Mu was named as a National Moral Model at a ceremony in Beijing recently. [wenming.cn]
Leng Mu, former director of the women's federation of Ni'ao Village in Gannan Tibetan Autonomous Prefecture, northwest China's Gansu Province, was recently named as a National Moral Model for selflessly taking care of a mentally-disabled elderly man for 33 years, at a ceremony held in Beijing.
Forty years ago, a senior gentleman with a slight mental disability wandered through the door of an elderly lady. No one knew where he came from or where he would go.
The kind lady accepted him out of compassion.
Seven years later, Leng entered the same family as the lady's daughter-in-law. Since then, she has taken on the responsibility of looking after the elderly man herself.
Despite no blood ties between them, Leng called him Ani, which means grandpa.
Later, Leng's parents-in-law and husband passed away one by one. She was left with the kids and the elderly man. No matter how tired she was from work, she always made sure that he could eat well and keep warm and clean.
When she traveled to the township to work, she asked the relatives to take turns looking after the man. And to take better care of him, she applied to change a job nearer to her home.
Sometimes when the man was in a bad temper and left, she and her children walked from one household to another to look for him. When he was ill, the family accompanied him in turns.
"No matter how our life is, we cannot abandon the elderly," she said.
"Everyone grows old. As long as I have food, Grandpa will also have it," she added.
One day, Grandpa walked out of the house while everyone was asleep and shouted in the yard. No matter how many times others tried to persuade him, he did not go inside. Leng took two chairs and sat in the yard with him until he calmed down.
Over the past decades, Leng's family faced predicament many times. On these occasions some villagers were worried whether they could keep taking care of the man, but those who knew them well believed Leng would never discard him because she is a kind-hearted person who sticks to her commitment.
Last winter, the man passed away at the age of 104. Leng arranged a solemn funeral for him according to the Tibetan rituals.
"Morality is not about big, empty words, but real deeds. It is not fanfare but down-to-earth actions," said she.
(Source: workercn.cn/Translated and edited by Women of China)