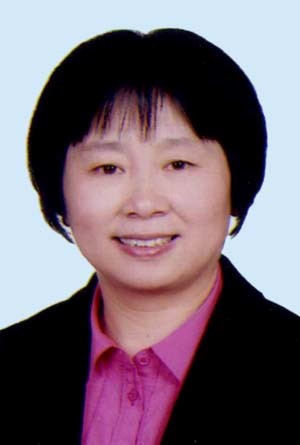 Zhu Guoping [wenming.cn]
In her daily life as an official of a Shanghai residential community, Zhu Guoping deals with trifling local issues. Meanwhile, every March, as a deputy to China's top legislative body, the National People Congress (NPC), she goes to Beijing and makes decisions on national policies.
The two seemingly unrelated jobs coexist harmoniously in Zhu's hands.
In mid-October, during the Fifth Selection of National Moral Models, Zhu was named in recognition of her contribution to the community and to her country.
Zhu is now serving her second term as a legislator. However, she never expected she would one day shoulder the considerable responsibility. When she first started out, it was rare for a community official to run for a seat in the national legislature.
Zhu became the director of the neighborhood committee of the Hongchu Community in Shanghai 23 years ago. On her first working day, she was startled by the poor conditions. Constructed in the 1970s, the community was dirty and shabby: its roads were bumpy, its walls were covered with flecks and there were plastic bags in the trees. Sitting in her office, she could even hear residents throwing garbage down onto the courtyard from their apartment windows.
Zhu made a decision to make a difference to the community. In the next couple of weeks, she led her staff to pick up refuse scattered on the lawns, streets and in staircases. Watching their work, residents were moved and fewer people scattered their garbage around again.
To further improve the condition, Zhu lobbied and raised 280,000 yuan (U.S. $44,000) to pave the roads, repair street lamps and paint the walls.
To better serve the community, Zhu paid home visits to each resident and the result is that her management and service are today based on actual needs.
Now, Hongchu Community is known for its clean roads, tidy trees and good relationships between neighbors. Though the community buildings are old, many residents are reluctant to move, and the price of housing is now higher than in similar sites nearby.
"This is the effect Zhu Guoping has had," said some residents, attributing it to Zhu's dedication.
Zhu's community has been honored as an advanced unit of national spiritual construction, a national youth model community and one of Shanghai's model communities.
Zhu herself has won more than 20 titles, including national excellent member of the Communist Party of China, national labor model and advanced community worker.
In 2008, she was elected as a deputy to the 11th NPC and then succeeded in her second run for the position in 2013.
Earlier this year, Zhu brought the voices of the residents in her electoral district to the Great Hall of the People and shared her ideas on the innovation of community management at the Shanghai delegation's panel discussion during the annual session of the NPC. President Xi Jinping attended the panel and commended Zhu's speech and recognized other grassroots officials like Zhu for their great contributions they had made to social stability.
"To be elected as a NPC deputy is a recognition by and trust from the Party and the people. I will try my best to be a qualified one," said Zhu.
(Source: Shanghai People's Congress Monthly/Translated and edited by Women of China)