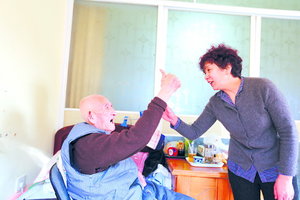 Fang Zeqiu (R) talks to Li Yuzhu at home. [dzwww.com]
Fang Zeqiu, a woman in Jinan, capital of east China's Shandong Province, was recently named as a National Moral Model for taking care of a childless elderly man for over 30 years, at a ceremony held in Beijing.
Dedicated to Care for the Elderly Man
Fang, a community resident in Lixia District, was a neighbor of Li Yuzhu, a life-long bachelor. In her memory, her family has often helped the grandpa since her childhood.
In 1979, 62-year-old Li was sent to hospital due to illness, and finally became semi-paralyzed. As he had no family members or relatives to rely on, the hospital contacted his neighbor Fang.
"I was 19 and had started to work. I would go and see Grandpa Li every Friday when I did not work," said Fang. "As time went by, the doctors and nurses found that he looked at the door constantly every Thursday. He was looking forward to my visit."
Recalling the past, Fang told a reporter that as she was worried no one would took care of the elderly man, she decided to bring him to home with her after negotiating with her mother.
"Follow me please, Grandpa. I will support you," said Fang swiftly.
Then, to fulfill the promise, Fang devoted 36 years to looking after him. After getting married and having a son, she shouldered the burden of taking care of the elderly gent together with her husband Yu Hai and her son Yu Xiaoning.
In 1992, Fang was laid off from her silk dyeing factory and the family's major source of income was from her husband, a maintenance worker in the local bus company.
At that time, the whole family squashed together in a cramped, 27-square-meter apartment with only one bedroom. The couple lived in the bedroom, the son in the hall, leaving the kitchen for the elderly man.
"As there was no heating in the bedroom and the stove was in the kitchen, Grandpa Li would feel warmer there," said Fang.
As her factory had gone bankrupt, she had to do odd jobs for the family's life. Grandpa Li's monthly allowance was only 80 yuan (U.S. $13) when he retired, and when his work unit could not reimburse him for his medical expenses in time, the couple paid the bill for him.
In April 1998, Grandpa Li fell down and fractured a bone. While in hospital, the surgeries led to internal bleeding, and the condition was critical. Fang asked for leave from work and returned to take care of him day and night.
However, the elderly man's fracture did not recover and he finally became fully paralyzed, which required more care. As he has trouble digesting properly, the family fed him honey water every day.
In summer, the family bathed the elderly man to keep his body clean and healthy. Under the delicate care of the whole family, his condition remained stable.
In 2012, Fang's husband passed away at work due to a sudden illness, which dealt her a heavy blow. But, thinking of the elderly man who still needed care, she chose to face life bravely.
On November 24, 2014, the elderly man passed away in peace at 97.
With more than three decades of accompaniment and care, Fang gave him a stable and happy life in his later years with her love and persistence. Her selfless deeds have amazed and moved the public.
Due to this, she was successively honored as one of the Top 10 Filial Piety (which refers to helping the elderly) Stars in Shandong and one of the National Filial Piety Stars, as well as one of Shandong's Kind Persons. Her family was also honored as one of the Most Beautiful Families nationwide.
Passing Down the Spirit of Filial Piety
After the elderly man passed away, Fang hoped to continue serving the neighborhood and the community and do some practical things that she could accomplish for the public, especially seniors, to pass down the spirit of respecting the aged.
On March 5 this year, under the support of the local government, a volunteer service station named after Fang was officially established. Based on the various deeds of the community residents, especially seniors, the station set up a network mainly formed by volunteers living in the community, to carry out services including caring for the "empty-nesters" (those whose children do not live with them) and the childless seniors. To date, the station has launched various such activities.
Under Fang's lead and inspiration, more and more residents in the community are bringing warmth to the elderly, and spreading the positive energy to society.
(Source: dzwww.com/Translated and edited by Women of China)