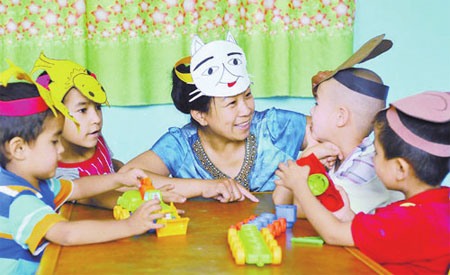 Zhou Lingli plays with the Uygur minority students she has grown to love in Atux. [China Women's News]
"I am a completely authentic Artux person now," says Zhou Lingna, referring to the vast, county-level area in northwest China's Xinjiang Uygur Autonomous Region. "I can speak Uighur, I am the king of children, and my parents-in-law are from the Uygur minority." This is how Zhou, the principal of a bilingual kindergarten in Artux, introduced herself.
Zhou traveled thousands of miles from her home in Shenyang, northeast China's Liaoning province, to a village in the faraway Pamir mountains to marry her husband. Today, she uses fluent Uygur language to speak with her students, sending out a message of love and compassion. Locals have given her the nickname "Gulan Danmu" (Flower of the Pamirs).
A Shenyang Lady Reaches Out To a Handsome Xinjiang Man
"I really never thought that in this lifetime I would find myself unwilling to leave Xinjiang Province," Zhou says, "Maybe that is just the power of love."
Zhou grew up in Shenyang. After losing her job in reforms after 1992, she became a kindergarten teacher and began doing business in a clearance market. At that time that she met her soulmate, Naisirula Wumaier.
At the time, Wumaier sold kebabs on the street by the market, but his Mandarin was not very good. Other people had trouble understanding him. But Zhou listened with her heart and they found a way to communicate. After three years of correspondence, Wumaier started to study Mandarin with Zhou and their relationship became closer.
Zhou said "When we started interacting, I could tell that he cared a lot about his family and was very honest and looked after the elderly. He's a good man." After three years of dating, in 1997 the two were married. Although they had only been to Xinjiang together twice in the past, in 2006 the couple decided to relocate to Artux for permanent residence.
The Beautiful Village Teacher in the High Plains
After settling in Artux, Zhou found that she was the only Han majority member in the village of over 2,700 people, so in her free time she began instructing Mandarin classes. After news of her classes spread, the director of education at a primary school contacted her and requested that she come to the school to teach. Not long after, Zhou became the school's first part-time bilingual teacher, and was in charge of first year students.
To help the students get a quick grasp of Mandarin, she invented a teaching method called "Interest-Teaching Study." In each 40 minute class, she only talks for 15 minutes, and leaves the rest of the class time for students to do performances and dialogues. She writes Chinese on all of the toys in the classroom so that while students play they can also be learning characters.
In 2010, Zhou received her teaching certification and realized her dream of becoming a nationally recognized People's Teacher.
Because of her teaching excellence and bilingual ability, Zhou was soon promoted to principal at the primary school.
Although she still does not make a high salary, each month she is able to give 50-100 yuan (U.S. $7-16) to assist impoverished students.
Everyone Here is My Family
Although Zhou is the only person who speaks fluent Mandarin in her village, she has been met with love and acceptance, receiving welcome and support from all of her neighbors. She spent over a month studying Uygur to adjust to the local language.
On any given day, Zhou and her neighbors interact like family. They see Zhou as one of their own and she, in turn, has completely acclimated herself to this family atmosphere. Whenever there is a big event like a marriage or a funeral, the other village women bring Zhou along, treating her as if she was their own daughter.
Zhou's daughter, Akuli, says of her mother "I really admire my mom. For over a decade she has worked so hard and endured so much. Outside of work, she takes such good care of us at home. She really works very hard, and we are all so grateful to her!"
Because of her work, Zhou can only return to Shenyang once every few years. Her parents have both passed away, and other relatives have tried to encourage her to go back to her hometown, but Zhou insists that Atuk is her home now.
"I am very happy here. Without these kids, if I left the family I've found here in this village, I don't think I would be comfortable. Here, everyone is my family. They need me. These kids need me." When she speaks of the future, Zhou says, "For love, I will stay in Xinjiang forever."
(Source: China Women's News/Translated and edited by Women of China)