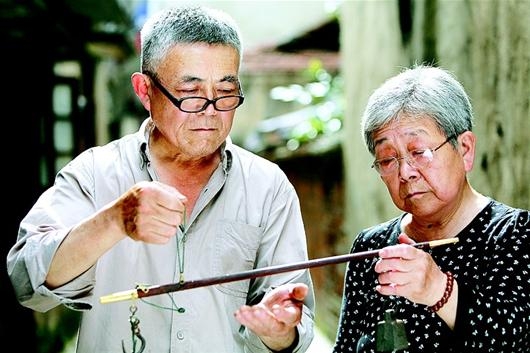 Jiang Yuzhen (R) and her younger brother Jiang Yuanbin [wenming.cn]
Born into a family with a 200-year-long tradition of producing weighing scales Jiang Yuzhen and her younger brother Jiang Yuanbin have been hand making the measuring devices in Wuhan, central China's Hubei Province, for as long as they can remember, adhering to their forefathers' promise of "fairness and precision".
In mid-October, at a ceremony in Beijing, the Jiangs were honored as national role models.
The pair have never compromised on their integrity for self-interest or money. They have established a strong reputation as being dependable and honest. At the local market, if sellers use scales made by the Jiangs, then buyers feel assured.
Huang Xilian, a neighbor of the Jiangs, owns one of their instruments. When she buys things, she weighs them with the personal scale. "I bought this scale more than 40 years ago, but it never went wrong," said Huang.
When anyone asks the Jiangs to make "defect" scales and offers them higher prices, Jiang and her brother always refuse.
In the winter of 1988, a fish vendor came and offered them nine coins that were used in the early 20th century to order a scale which would be "50 to 100 grams short per 500 grams". At that time, the set of coins was worth more than 100 yuan (U.S. $16). It was a large amount, equivalent to one month's disposable income for the average Chinese urban resident.
Though Jiang and her brother lived a tough life, they stuck fast to their principles and refused the vendor's request immediately.
"When my father taught me about this profession, he told me never to compromise my conscientiousness, or bad things would happen. Doing the right things keeps the evil out of your mind," said Jiang Yuzhen.
Over recent years, electric scales have been replacing traditional Chinese weighing devices. Though their business is affected, the Jiangs still keep their shop open every day.
The Jiangs said, "Each scale we have sold stands for trust and honesty. Though the number of orders is slipping, we are afraid that our old customers may need to repair the scales they bought from us. So no matter how hard, we will run the business."
When their story was reported by media, many came to buy their scales for their collection. Some company owners bought their products to teach employees to love their posts, work with honesty and remain trustworthy.
Unfortunately, the Jiangs have had difficulties finding people to carry on their profession. They keep telling their children that their ancestors lived on making scales and liked making scales. They had strong principles and never crossed the line.
Because of their commitment, the Jiangs were selected as the province's role models, and were named with the titles of China's Good People.
(Source: wenming.cn/Translated and edited by Women of China)