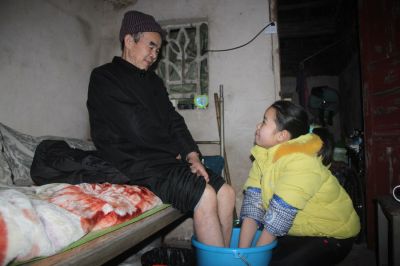 Chen helps her father wash his feet. [WeChat]
Chen Chunlin, an 18-year-old girl from south China's Guangxi Zhuang Autonomous Region, was named as a National Moral Model for strengthening family relations and showing great respect to the elderly, at a ceremony held in Beijing in mid-October.
Hailed as source of inspiration for her love and devotion to her disabled father, officials already announced that Chen was among the nation's top 10 so-called "Touching China" individuals last year.
Chen was born into a rural family in the province, and her parents are both semi-illiterate. However, the girl, along with her younger brother, were deeply influenced by the traditional Chinese family virtues their parents taught them, such as showing respect for the family, diligence and integrity.
Impoverished as it was, the whole family led a full life. To their parents' delight, Chen and her brother performed well at school and they are both aware of the power of knowledge.
In 2006, a great disaster befell Chen as her mother was hit with a sudden stroke. The unexpected suffering exhausted the strength of the poverty-stricken family and later Chen's mother died when Chen was only 9.
The family was confronted with huge economic pressure as Chen and her brother started their junior high education in 2010. Chen's father migrated to a neighboring province for a better salary to relieve the economic burden partially brought about by his wife's treatment.
Stepping up, Chen shouldered the family responsibility of raising her younger brother even though they were left-behind in their hometown without their parents' care.
However, calamity occurred in successive years as the heartbreaking news came that Chen's father was paralyzed following a stroke, too.
Chen trained herself and attended her ill father. Chen's brother chose to drop out of school and migrated to take on manual work after weighing up the situation.
"My kids, I am of no use until the end of my life. In the past, I was unable to promise you a happy life. And now, I am a burden to you," cried Chen's father after the series of catastrophes which had hit him in the past several years.
"Where there is my father, there is my home," responded Chen.
To cut daily expenses, Chen only ate two Chinese-style steamed buns a day whilst seeking various medical treatments and supplements for her paralyzed father. Furthermore, Chen managed to find time to take on a job as a temporary worker to make both ends meet.
"You were the pillar of our family after mother died. And now, I will be the support to the family as you fell ill. If you could stand again, I will spare no effort in helping you," encouraged Chen.
Since then, Chen often offered her father massage therapy based on the guidance of a nurse. She often spent several hours helping her father to stretch to benefit his muscles.
Chen's father condition quickly improved, after a year of physical rehabilitation training.
Busy as she was, Chen also endeavored to study hard every night because she knew that knowledge could help her change the ill fate.
To realize her dream, Chen got a chance to go back to school under her teachers' help.
Meanwhile, groups of social charities financed the girl after piles of media reports covered her plight.
In September, Chen succeeded in enrolling into a local senior high school, where Chen is privileged to attend to her father and study for free.
"The tight school schedule doesn't deal a blow to Chen. Instead, she studied harder than before. As brave as she is, she never complained about her life," said Luo Weiwei, a classmate.
"She does not tell us the bad news about her father and she burdens the responsibility of taking care of her father alone when we come across an important exam," said Huang Xiaodi, another classmate of Chen.
Last year, Chen was honored as one of the candidates who had most moved the Chinese people.
Chen hopes to be a teacher in the near future, to repay what the whole of society has done for her, she said.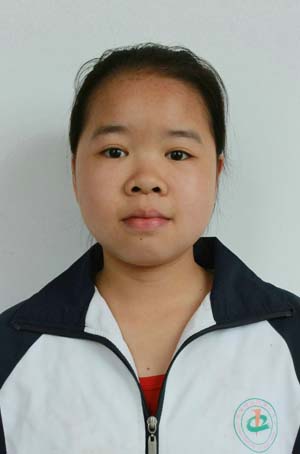 Chen Chunlin [File Photo]
(Source: chhzm.com and gx.xinhuanet.com/Translated and edited by Women of China)