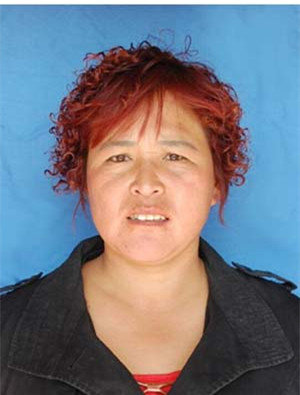 Wang Zhengrong was named as a National Moral Model for taking care of the elderly. [wenming.cn]
Wang Zhengrong, a 43-year-old woman from Dandong City, northeast China's Liaoning Province, has taken good care of her sick parents, an uncle who could not hear or speak, and a brother with epilepsy, in the past two decades. She was recently named as one of the country's National Moral Models for her inspirational efforts, at a ceremony held in Beijing.
Wang married Liu Zhendong at the young age of 23. Soon after, her husband migrated to a far-away city to find work. Each year, he could stay at home for only 20 days, leaving all of the family burdens to his wife.
Her parents-in-law are both in poor health, making frequent trips to hospital. In August 2009, when her mother-in-law was hospitalized due to bone disease, Wang borrowed money from her relatives for treatment.
In spring 2005, her father-in-law was diagnosed with a blood clot in his brain. During his more than one-month stay in hospital, Wang traveled over an hour to hospital to attend to him each day. In order to help him recover sooner, she gave him massages every evening. When he finally went into remission, Wang had lost 10 kilograms in weight.
Since her marriage, Wang also took care of her uncle, who could not hear or speak, with no wife to look after him. In May, 2014, he was diagnosed with lung cancer. Wang was at his bed all the time until his last breath.
While her uncle was alive, he lived with Wang's considerably large family. Seeing her busy with farming and housework every day, he felt guilty for not being able to take care of himself. When he sought lodging in the nursing home, Wang refused to let him leave, and said he should regard her as his own daughter. She promised to let him live a happy life in his twilight years.
Wang's older brother-in-law was born with epilepsy and water on the brain. Every time he has a fit, Wang attends to him and restores order, looking after his needs and helping him with medical treatments.
To take care of the whole family, Wang has endured unimaginable hardships in the eyes of ordinary people. Every morning, she gets up at 3 a.m., cooks for the two school-aged sons, and walks 2 kilometers to the silkworm-raising yard. After feeding the silkworms, she goes back home and cooks for the whole family.
In order to increase their income, she not only farms the family's fields but also rents fields from others. During sowing and harvesting times, she does the farm work alone. Seeing that other women's husbands are helping on the land, she sometimes sheds tears. But when her husband said he would ask for leave and come back to help her in phone calls, she told him to work without worrying about her.
Due to the hard toil, the 43-year-old has gray hairs and her hands are covered with thick skin. Her story was broadcast on Liaoning TV in 2010 and won applause from the public. She has received many local awards for her dedication to the family since 2009.
Despite the hardships, Wang was happy to see that that the elderly under her care enjoy their lives and the children have grown up healthily. She believes that the family would live a better life in future.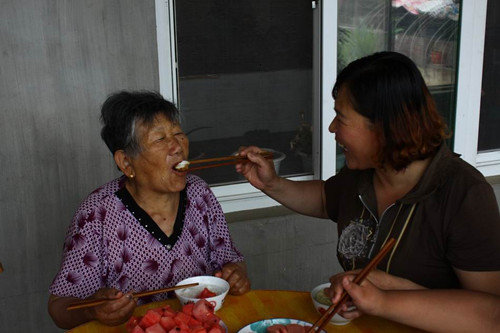 Wang Zhengrong feeds her mother-in-law. [wenming.cn]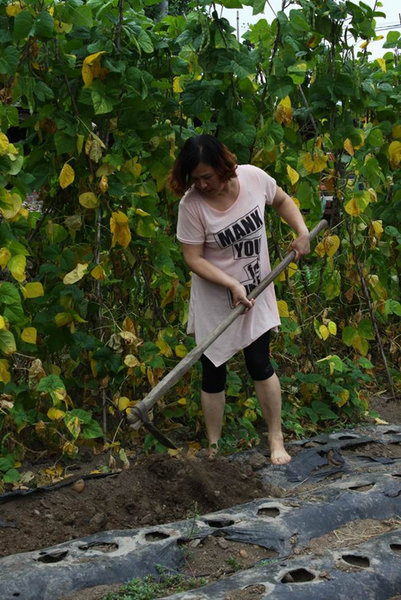 Wang Zhengrong works in the field. [wengming.cn]
(Source: wenming.cn/Translated and edited by Women of China)