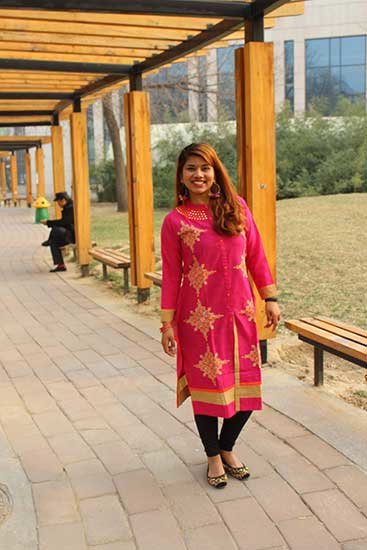 Akriti Nayal from India is among an increasing number of foreign students at the University of International Business and Economics in Beijing, thanks to the Belt and Road Initiative.[China Daily]
Foreign students, who come from countries ranging from Azerbaijan to the Republic of Burundi, are an exciting addition to the already vibrant college culture at the University of International Business and Economics in Beijing.
Akriti Nayal, 22, from the Indian capital New Delhi, studying for her master's degree in international business, is one of the many who believe in the saying that it takes two hands to clap.
"I heard about the Belt and Road Initiative when I was in India. And it interests me because there is a heavy focus on Asia. As the world's two most populous countries, India and China should get to know each other better," she says.
Nayal is one of the 50 Indian students who were chosen last year by the China Scholarship Council for full funding of their educational programs in the country.
She says that she has seen an increasing number of Indian students coming to China recently, especially to study medicine and physiotherapy.
"My parents are now in India doing tourism. My mom had studied in Fudan University (inShanghai) and my brother had studied in UIBE. They both can speak Chinese fluently.
"I chose to study at UIBE because it is a great institution, and now without language barriers, I get to know better how Chinese business works. For me, connectivity between different countries help to broaden my horizons," she says.
Since the Belt and Road Initiative was launched in 2013, she has been aware of the increasing Chinese efforts to boost cultural ties.
The 8th International Culture Festival on the campus recently, drew the biggest crowd since it started in 2010.
Nayal was a member of the art and culture department of the university's International Students Union. She plans to find a marketing job in Beijing after completing her master's program.
"I have done internships in both multinational companies and startups, but I think it is essential that you should think out of the box," she says.
Meanwhile, more than 350,000 Chinese students have studied in countries involved in the Belt and Road Initiative since 2012, Tian Xuejun, vice-minister of education, said at a recent media conference in Beijing. Some 11,900 of them were sponsored by the Chinese government, he added.
Almokhem Abdulaziz from Saudi Arabia, majoring in finance at UIBE, says he chose China to understand the country's thoughts and ideas.
"The most important advantage of studying here is mastering the Chinese language and learning about the country's culture," he says.
Scholarships for Saudi Arabian students come mainly from the Saudi Arabian cultural mission and the ministry of education, where top students are sent abroad to study in elite universities.
As for Abdulaziz, he got his scholarship from Aramco, an oil company in his country.
He heard about the Belt and Road Initiative early on as his professors talked about it.
And, he learned more about it in 2016 when President Xi Jinping visited Saudi Arabia.
"The visit improved the relationship between the two countries, and I started to learn more about it (the initiative). It also influences students' lives by changing their perspectives. Also, we will have many job opportunities in the future, especially in the industrial, political and commercial sectors," he says.
Abdulaziz says he had little knowledge of Chinese culture before he came to the country in 2014.
"But after living in China, I realize that there are many similarities between Chinese and Saudi Arabian cultures especially when it comes to extended families and respecting and taking care of elders, which are different from Western culture," he says.
Abdulaziz says that understanding different cultures is important if we are to live in peace and develop as countries.
"We have to focus on this to accomplish the vision of the Belt and Road Initiative," he says.
(Source: China Daily)