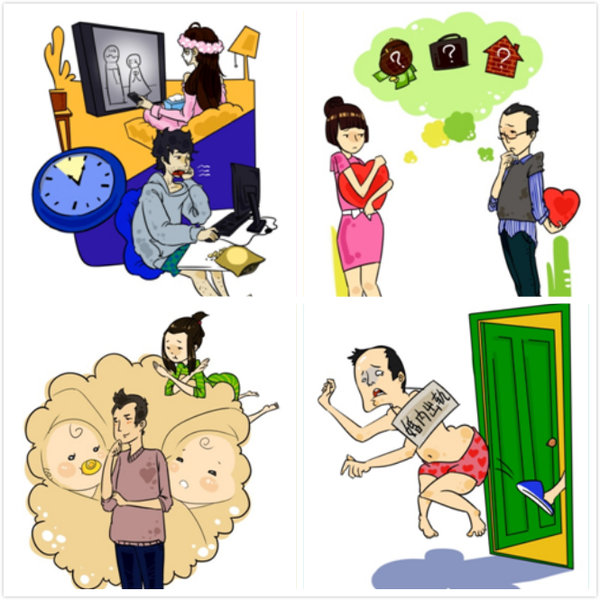 Recent reports on marriage and romantic relationships in China have shed light on what life is like for the country's single and married citizens. [Xinhua]
Multiple reports have been released in recent years on marriage and romantic relationships in China by leading dating websites and higher education institutions, shedding light on what life is like for the country's single and married citizens.
How Are China's Singles Doing?
A national report by dating website baihe.com shows that more and more Chinese youngsters go home and stay in after getting off work in the evening. With no disturbances, no restrictions, and the modern diversions of the Internet—home life can provide them with almost everything they need.
For these young men and women, spending over six hours alone per day can pose a real challenge if they want to find a romantic relationship or get married.
Statistics show that singles are much higher among those who have lived alone for more than four years (36 percent), compared to the 14.6 percent of those who live with others and the 13.8 percent living with their parents.
Generally, Chinese single men put most of their energy into work while women tend to arrange an enjoyable single life for themselves. To some extent, this has been an outcome of the popular idea that successful men and beautiful women are the most favored spouses.
Who Are the Ideal Life Partners?
Should you marry someone who loves you, or the other way around? Now, nearly half of the Chinese singles choose a third way—the person with equal material conditions, such as income and real estate.
Love no longer comes first in modern Chinese marriages, and people are getting increasingly rational in seeking a match in various aspects. For them, potential spouses are something more like two parties in a job interview, or business partners.
While gender equality has been widely supported in the country, Chinese women still prefer husbands who can earn two times their level or even more, so the men can be the major breadwinners in the family. In contrast, men prefer wives with comparative incomes.
In 2014, the topic "Chinese men are not enough for Chinese women" sparked heated debate on social media. Online polls showed that 33 percent of females supported such a claim, while less than 6 percent of men agreed. Specifically, Chinese women criticized the men for lacking "self-cultivation" and "the spirit of independence."
Parental Expectations vs. Independent Choice
In China, romance and marriage are never completely personal issues for the two involved. The relationship between parents-in-law has been a key element in the process. The in-laws tend to list a variety of conditions about their preferred future sons- or daughters-in law. A survey finds that some 30 percent of singles in China have experienced break-ups due to parental interventions, with nearly 34 percent of men and 27 percent of women affected.
Post-90s Generation and Ph. D. Students: 'Major Forces' in Romantic Relationships
A 2015 report by Peking University shows that over half (52 percent) of respondents had their first romantic relationship before they were 18. On the whole, the younger generations fell in love even earlier, with those born after 1995 involved in romance at merely 12.
To the surprise of many, Ph. D. students, who are often thought of as dull in China, have an average of 6.87 romance relationships, ranking first among other groups. And female Ph. D. students have an even higher record of averaging 7.12 love affairs.
7-year Itch? Now, It's 5.
The Peking University survey finds that the happiness of married life drops to its lowest level by the 3rd-5th year, much earlier than the commonly held "seven-year itch." About 11 percent of couples in those years swear that they would not choose their current partner in the next life, and some 9 percent said they simply would not get married.
In fact, there are differences between men and women's feelings towards their marriage. On the whole, husbands are more content with married life. In families with children, women often feel increased unhappiness, causing an even wider gap.
Wives in China have to handle household chores, child-raising and caring for the elderly, while working to earn money, and they are sometimes overwhelmed by the "enormous pressure," pointed out Zhou Xiaopeng, an expert in marriage and relationship.
Their husbands, on the other hand, mainly focus on their work. Statistics reveal that merely 2 percent of Chinese fathers take the major share of child-caring, leaving the duties to some 30 percent of working mothers.
Therefore, as China relaxes its family planning policy and allows all couples to have two children, husbands have expressed much more willingness, compared with their wives.
As regards broken families, extramarital affairs have been a factor in over half of cases, with men and women cheating in equal proportion. Most of the singles interviewed thought it appropriate to force the "marriage-breaker" out without giving them any family assets, with female support for this strategy 14 percent higher than among men.
(Source: Xinhua, news.eastday.com/Translated and edited by Women of China)