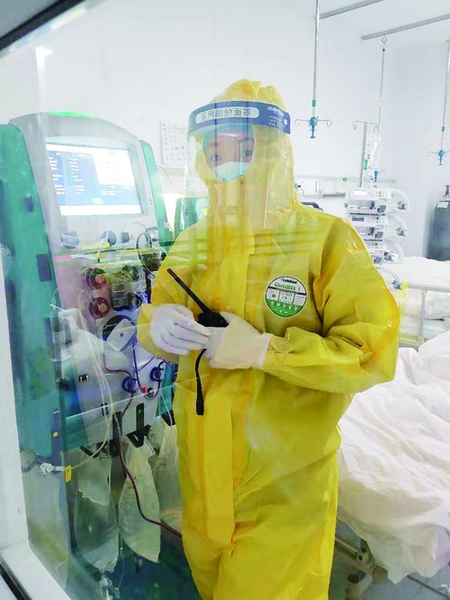 Deng Tiantian, 26, working in a ICU ward of Wuhan Jinyintan Hospital. [China Women's News]
Young Nurse Devoted to Challenging Work
Since the 29th of the twelfth lunar month, or January 23, Deng Tiantian, a 26-year-old nurse, has been working in the ICU wards of Wuhan Jinyintan Hospital, in Wuhan City, capital of Central China's Hubei Province and epicenter of the novel coronavirus disease (COVID-19).
Since the outbreak of the virus, that hospital has been the place to treat the severe COVID-19 cases. In seven hours of work each day in the ICU wards, Deng is one of those who are closest to the patients with COVID-19.
"I'm a Party member and I'm young with good immunity, so I should work at the frontline," Deng said.
On January 23, as an ICU nurse at the Second People's Hospital of Yichang City, Hubei Province, she signed up to come to Wuhan without discussing it with her husband or other family members.
"Working in the ICU ward wearing tight and heavy protective clothing makes me feel anoxic and very uncomfortable, and makes it hard to work," she said. In order to save protective clothing, Deng doesn't eat, drink, or leave the ward during her shift.
In addition to medical care, Deng has to help patients turn over, feed them meals, and handle excreta in the ward, due to the shortage of staff.
"I felt either happy or sad for patients' conditions," Deng said. There was both joy after a patient was cured and a feeling of helplessness when it was impossible to save them.
"What makes me most happy is to see a patient in critical condition getting better after treatment and becoming ready for discharge soon," Deng said. She hopes all her patients will be discharged from the hospital. "It is the time I feel my greatest value to others."
Community Official Gets Promotion for Outstanding Performance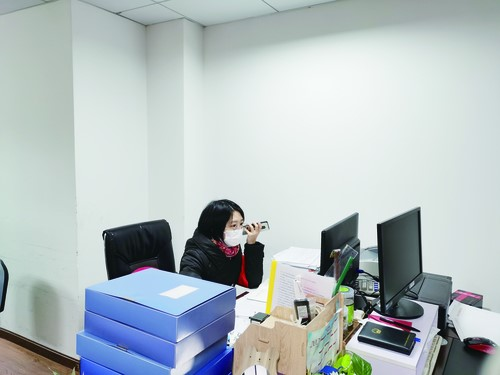 Rao Yue works in her office. [China Women's News]
Staring at the computer screen, filling in a statistical form of COVID-19 patient information, while answering the phone from time to time; this is Rao Yue's routine work amid the anti-epidemic battle.
All information about the sub-district is collected by her every day.
Rao was originally deputy director of the Party Construction Office of Minzu Sub-district in Jianghan District, Wuhan City. Because of her outstanding performance in epidemic prevention and control work, she was promoted to director of the office, the only post-90s sub-district official among all those recently promoted.
Since New Year's Eve, Rao has been working for a month without a day off. To save commuting time, she stopped breastfeeding and moved to the hotel next to her office.
"It was more tiring at the early stage of COVID-19 prevention, due to shortage of staff and lack of experience of handling such an emergency," Rao recalled.
No matter how difficult it was, the outbreak had to be dealt with properly, Rao said. She and her colleagues worked overtime and investigated more than 10,000 people in over 5,500 households in the district. They often made hundreds of calls a day, and replied to messages even at 4 am.
"As of now, a lot of work has been straightened out," Rao said.
So far, the six communities under the jurisdiction of Minzu Sub-district have been under good management and they have sent all confirmed patients to hospitals and suspected cases to quarantine sites. Rao has put great efforts in doing it, coordinating the prevention and control command, hospitals, isolation sites and patients themselves, so as to speed up the processes of admission, treatment and quarantine.
"This is not my own achievement, but the result of hard work by all my colleagues," Rao said.
Policewoman Returns to Work Overnight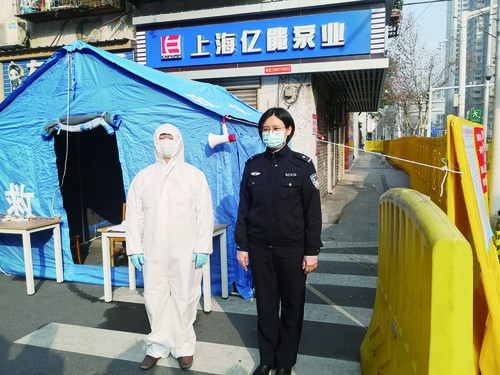 Meng Jiani (R) is on duty. [China Women's News]
Meng Jiani, born in 1993, is a police officer at the Minyi Police Station of the Jianghan Branch of the Wuhan Public Security Bureau in Wuhan City. Her husband, Zhang Pengchao, is also a post-90s policeman in the city.
On January 21, Meng and her husband returned to their hometown in East China's Shandong Province to celebrate the Lunar New Year.
"When the COVID-19 broke out, we wanted to return to Wuhan immediately," Meng said.
"As my husband had contacted with two confirmed patients at work, we had to be quarantined at home for 14 days," she continued.
As soon as the quarantine ended on February 6, the couple went back to Wuhan after a 20-plus hours' drive.
Arriving at home at two o'clock in the morning, they started to work at their respective posts after just a short break.
Meng has been working without a day off since February 6, providing services for citizens in need and helping with COVID-19 prevention and control work in the community.
"I don't feel it's hard to do so, and this is what I should do," she said, adding that as one of the post-90s generation, it is the time for her to shoulder the responsibilities.
(Source: China Women's News/Translated and edited by Women of China)