Song Caiping is deputy director of the nursing department at Huoshenshan Hospital in Wuhan, capital city of Central China's Hubei Province. Song is a member of the first group of military medical staff dispatched to Wuhan for aiding the fight against the novel coronavirus (COVID-19).
After leading team members to clean the wards, Song began to sort out treatment processes and prepared to receive new patients. When she came back to the dormitory, it was the early morning of the next day. She took out her notebook and made a to-do list.
In 2004, Song led medical workers in the fight against Ebola in West Africa, which helped her complete the reconstruction of the wards within 24 hours and won precious time for receiving and treating patients.
When Song arrived in Wuhan, she also took the responsibility of reconstructing normal wards of Jinyintan Hospital into special wards for infectious diseases.
"Neglect of any detail may cause an increase in risks of infection among medical staff," Song said.
She remembers that some local medical workers were infected with Ebola virus when they fought against Ebola in 2014. Therefore, she required every team member to be acquainted with every process to protect them from infection. "Do not neglect any detail. We are able to treat more patients if we take the preventive measures well," Song always said to her team members.
Song is in charge of the infection prevention for medical workers and the management of some ward areas. During daytime, she is busy with the hospital's management work, while she goes to check on the patients under her care at night.
Once, when Song was inspecting the wards, she learned that a female patient was anxious and nervous, which made her quarrelsome with others.
"We should consider patients' psychological status from their side, and try our best to comfort our patients," said Song. From then on, she often chatted with her and encouraged her when inspecting her ward. As a result, the patient gradually cheered up and her physical condition got better day by day.
"We should be more patient. The protective clothing is cold, but our hearts are warm. We should care for our patients with love," Song said, adding that besides regular treatments, patients' positive and optimistic attitude is a powerful weapon in the fight against the virus.
She encourages medical staff to bring more happiness to patients by playing music for them or writing some encouraging words on their protective clothing.
Song believes that training professional nursing staff is the best way to provide patients with more scientific, advanced and efficient care services. In addition, giving care with affection to the nursing staff can strengthen their confidence and sense of identity.
Song is always there helping relieve medical workers' anxiety and guiding them in how to cope with their work. Song is their warmest support.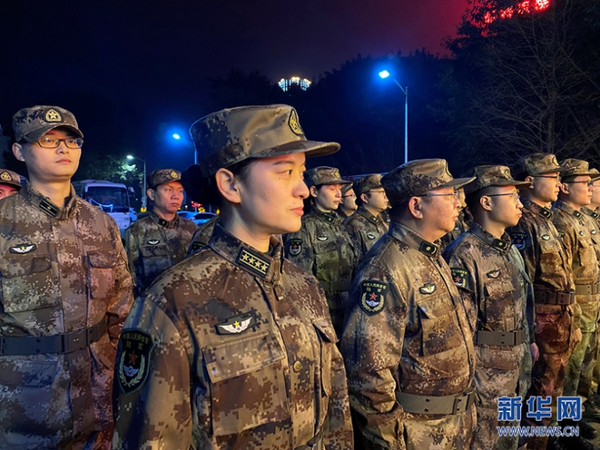 On the evening of January 24, Song Caiping (front row, 1st, L) is ready to leave for Wuhan with the medical team for aiding the fight against the COVID-19. [Xinhua]
(Source: China Women's News/Translated and edited by Women of China)