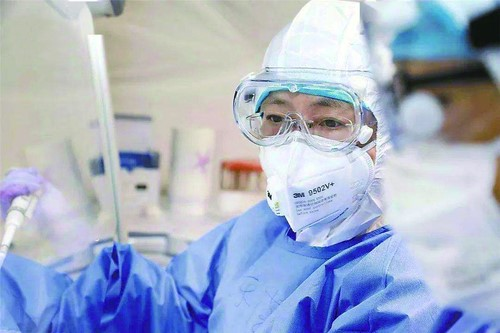 Chen Wei, a military medical researcher at the Academy of Military Medical Sciences, works in a laboratory. [CCTV-7]
Chen Wei, an academician of the Chinese Academy of Engineering and a military medical scientist at the Academy of Military Medical Sciences, was honored the title of "People's Hero," a highly prestigious national honor, for her major achievenments in COVID-19-related basic research and development of a vaccine and protective medicine on August 11.
After the outbreak of the COVID-19 epidemic earlier this year, Chen and her team immediately went to Wuhan, the worst-hit city by the epidemic in China, to carry out scientific research and offer guidance on epidemic prevention and control.
After arriving in Wuhan on January 26, Chen and her teammates built up a tent-type mobile testing laboratory and platform in a day, with a nucleic acid testing capacity of 1,000 people per day.
Chen has devoted to research of biohazard prevention and control for many years, and has developed Recombinant Human Interferon-ω, the People's Liberation Army's first new biological drug for SARS prevention, as well as the world's first Ebola vaccine with a new drug certificate.
This time, Chen led her medical expert group in developing the COVID-19 vaccine at wartime speed, and has made breakthroughs and progress within half a year.
The COVID-19 vaccine developed by Chen's research team became the first vaccine of its kind officially approved for clinical trials in China on March 16 and the 108 volunteers who received the phase I clinical trial of the vaccine finished their medical observation on April 10 and were in good health.
A phase II randomized double-blind clinical trial was launched in Wuhan on April 12 and at that time it was the only novel coronavirus vaccine in the world to enter phase II clinical trials.
The phase II clinical trial of the vaccine has found it is safe and can induce an immune response, according to research published in The Lancet last month.
A phase-three clinical trial, which will include more participants and be conducted overseas, is currently in the pipeline.
"As a general drug, effectiveness comes first; but for a vaccine, safety has to be put first. Before a vaccine can be tested in humans, a lot of research has to be done to minimize the clinical safety risks," Chen explained.
In clinical trials, Chen's team took a step-by-step approach, starting with the smallest dose and the smallest number of volunteers to see how safe the vaccine was.
Actually, the development and testing of the COVID-19 vaccine is quite different from that of other highly pathogenic microorganisms in which she has participated, Chen noted, adding that it takes about 30 times as much work to get a vaccine into clinical trials as it used to.
"What has brought us to this point is our teammates' willpower, as well as our confidence in science and technology, and a comprehensive understanding of domestic and international regulations," Chen said.
On August 16, the National Intellectual Property Administration approved the first domestic patent for the COVID-19 vaccine developed by the joint team led by Chen.
"Behind the progress, the strong support from the Party and the understanding from our family members are the source of the motivation. It's very common not keeping in touch with family members for a long time because of the special work, but it's fine as they know we are safe and doing something worthwhile," Chen added.
(Source: CCTV-7/Translated and edited by Women of China)